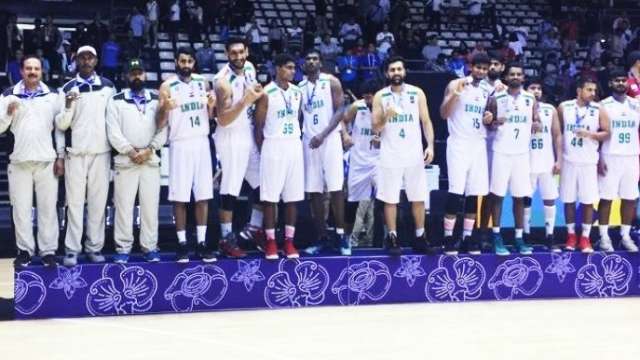 The Indian men's team bagged the silver medal at the Asian Games 5x5 basketball test event in Jakarta.

The India side went down fighting 68-78 to hosts Indonesia at the Istora Sanayan Hall, Gelora Bung Karno Sports Complex to finish runners-up in the invitational tournament.

The hosts thus avenged their loss against their opponents a few days back, which was India's first victory of the tournament.

Considering that India started their campaign with a 72-79 loss against Thailand, the second-place finish could be considered a creditable one.

The first quarter of the game saw...
By: DNA India - 4 days ago
Related Posts
In the last 2 hours
Olympic roundup: Japanese skater wins milestone 1,000th Winter Olympic gold-medal event Ottawa Citizen (Today) - Yuzuru Hanyu of Japan won not only the men's singles figure skating competition of the 2018 Pyeongchang Olympics, but also in doing so became the 1,000th gold-medal winner in Winter...
The Latest: Commissioner praises refs, players for meeting Miami Herald (Today) - The Latest on NBA All-Star Saturday (all times local): 4:50 p.m. Commissioner Adam Silver lauded the National Basketball Players Association and the National Basketball Referees Association for meeting to discuss...
Adam Silver Proud of LeBron James, Kevin Durant's Replies to Fox News Host Bleacher Report (Today) - NBA Commissioner Adam Silver praised Kevin Durant and LeBron James for their responses to Fox News host Laura Ingraham, who said on her show that players like Durant and James...
Older News
All-Stars collide in LA with teams picked by LeBron James, Steph Curry Chicago Tribune (Today) - The NBA All-Star Game added spice to its 67th edition by allowing the captains to pick their teams. Team LeBron vs. Team Steph has replaced the traditional East-West format, shuffling...
Daily Pilot High School Male Athlete of the Week: Barela put team first for Newport Harbor Los Angeles Times (Today) - Sam Barela has a high-profile position as the quarterback of the Newport Harbor High football team, but the junior said he's always considered himself a basketball player. That's the sport...
Playoff pairings for boys and girls basketball San Diego News (Today) - San Diego Section prep basketball playoff pairings: BOYS BASKETBALL San Diego Section Championships OPEN DIVISION Quarterfinals—Feb. 23 (8) St. Augustine (17-6) at (1) Foothills Christian (24-5), 7 p.m. (5) Mater...
A.J. Davis helps UCF basketball hold SMU to season-low scoring during 52-37 win Orlando Sentinel (Today) - A.J. Davis wasted little time bringing defensive pressure, 3-point scoring and even an early alley-oop to help the UCF basketball team topple injury-riddled SMU 52-37 early Saturday morning. He remembered...
Dutch speed skating team the most dominant team at these Winter Olympics USA TODAY (Today) - The Dutch are fourth in the overall medal count at the Winter Olympics with 13 despite a population of 17 million, 67th most populous in the world.       ...
Sam Querrey advances to New York Open final USA TODAY (Today) - Querrey wins the last four games to beat No. 4 Adrian Mannarino 6-7 (5), 7-5, 6-3.       ...
Swedish King Can't Contain His Excitement as He Meets with Gold Medal-Winning Skiers People.com (Today) - King Carl XVI Gustaf of Sweden is really enjoying the 2018 Winter Olympics so far.The Swedish king shared multiple snaps starring some of Sweden's gold medal-winning skiers on Saturday, including...