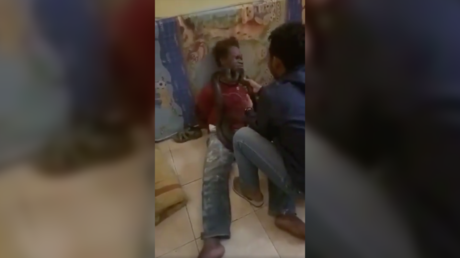 Horrific footage has been shared online by a human rights activist which purports to show Indonesian police torturing a man by locking him in a cell with a live, two-meter-long snake while taunting and laughing at him. Read Full Article at RT.com...
By: RT - Daily news - 5 days ago
Related Posts
Older News
Bodycam video shows police officers shoot, kill knife-wielding man Miami Herald (Yesterday) - Seattle police released bodycam video of an officer-involved shooting. Officers shot and killed a man suspected of killing a woman after he grabbed a knife and lunged at officers. WARNING:...
Seven-Year-Old Boy Sprints 100M In 13.48 Seconds [VIDEO] Modern Ghana (Yesterday) - Little Rudolph lsquo;Blaze rsquo; Ingram is 1.5 seconds closer to following in the footsteps of Usain Bolt as the fastest man on earth and he rsquo;s only seven years old....
It's 'just too easy' for doctors to steal. That's why opioids are vanishing by the fistful in B.C.'s Lower Mainland Toronto Star (Yesterday) - Medical authorities are hesitant to rule hundreds of disappearances as theft — a "horrific" failure, according to one drug diversion expert. Even when they find a thief, policies designed to...
Ostracized for being HIV-positive: Orphans kicked out of Indonesian school speak with RT (VIDEO) RT - Daily news (Yesterday) - A public elementary school in Indonesia has expelled 14 orphaned children, following complaints about their HIV-positive status. In exclusive interviews, RT spoke with the ostracized children and the NGO that...
LIVE VIDEO: Willie Hofmeyr on the stand at Mokgoro inquiry - eNCA Google News South Africa (Yesterday) - LIVE VIDEO: Willie Hofmeyr on the stand at Mokgoro inquiry  eNCA#MokgoroInquiry: Jiba comes out guns blazing  IOLJiba's lawyers seek to have Mokgoro Inquiry disregard Agrizzi affidavit  EWNView full coverage on Google News...
Pulwama terror attack LIVE Updates: JeM video warning surfaced 2 days ago, Jammu and Kashmir governor admits to intel failure Firstpost (2 days ago) - Pulwama terror attack LIVE Updates: Just two days before the devastating attack on the CRPF convoy in Jammu and Kashmir, Pakistan-based anti-India terror group Jaish-e-Mohammad had uploaded a video online...
Hammered hubby leaves wife in hot tub of horror Toronto Sun (2 days ago) - A hammered husband is accused of trapping his terrified wife inside the family hot tub where she drowned. Cops arrested Eric Huska, 58, of Chicago after surveillance video revealed he closed...
Police dashcam video shows pursuit of stolen community watch vehicle Miami Herald (2 days ago) - Dashcam video shows Lady Lake, Florida police chasing a driver they say is 29-year-old Jessie Webb after he stole a community watch vehicle and rambled through The Villages on Sunday....
Do Foreign Powers Like The Docile Attitude Of African Leaders? Modern Ghana (2 days ago) - It rsquo;s not a hidden fact that the US government loves to acknowledge the fact that many governments fear America around the world and wouldn rsquo;t dare to challenge them...
Pulwama attack LIVE updates: JeM releases 11-minute video of suicide bomber urging Muslims to 'wage war against India' Firstpost (2 days ago) - Pulwama attack LIVE updates: A video purportedly released by Jaish-e-Mohammed depicts a militant, identified as "JeM fidayeen attacker Aadil Bhai" claiming responsibility for Thursday's attack. In a press release, the...