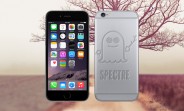 We always knew that patching the recently-discovered Meltdown and Spectre vulnerabilities will involve a drop in performance, especially in older devices. The magnitude of the drop is still being examined, but the early results don't look good.

In at least one case, an iPhone 6 saw its Apple A8 lose 40% of its CPU performance after going from iOS 11.1.2 to 11.2.2. The test was run by Dutch entrepreneur Melvin Mughal who got the following results on his phone before and after the update.

Before Spectre update

After Spectre update

Performance change

......
By: GSMArena.com - Friday, 12 January
Related Posts
In the last 2 hours
Bill Cosby takes the stage for first public performance in years Canberra Times (Today) - Bill Cosby joked about his blindness, scatted along with a jazz band, and even played the drums Monday in his first public performance since abuse allegations from dozens of women...
Will Apple's iPhone X get cancelled around mid-2018? Khaleej Times (Yesterday) - Selling iPhone X at lower price will hurt Apple's other products....
Older News
Will Apple's iPhone X get cancelled? Khaleej Times (Yesterday) - Selling iPhone X at lower price will hurt Apple's other products....
Linux creator slams Intel for crappy Meltdown/Spectre patches The Next Web (Yesterday) - Intel's had a (mostly) crappy start to the year, thanks to the revelation of Meltdown and Spectre, two major security flaws affecting a wide range of its processors that are...
Now get a cashback of Rs 12,000 on iPhone X, Rs 10,000 on iPhone 8 and more if you are an HDFC card holders Firstpost (Yesterday) - There are a host of new cashback offers on the iPhone X, Apple Watch Series 3, iPhone 8 and the MacBook Pro.The post Now get a cashback of Rs 12,000...
Intel asks customers to halt patching for chip bug, citing flaw DNA India (Yesterday) - Intel Corp said that patches it released to address two high-profile security vulnerabilities in its chips are faulty, advising customers, computer makers and cloud providers to stop installing them. Intel Executive...
Intel's Spectre patch is so busted, the company is telling customers not to use it Mashable (Yesterday) - Remember Spectre and Meltdown?The two recently disclosed vulnerabilities affecting all kinds of computer processors represented a huge threat to consumers and businesses around the globe. Thankfully, Intel offered up a...
Why the iPhone X will probably never see its first birthday Mashable (Yesterday) - If you've been debating whether to buy an iPhone X, you may have just been scared out of your decision.On Friday, the king of Apple analysts, his majesty Ming-Chi Kuo...
Linus Torvalds declares Intel fix for Meltdown/Spectre 'complete and utter garbage' TechCrunch (Yesterday) -  The always outspoken Linus Torvalds, best known for his continuing work on the innermost code of Linux systems, has harsh words to say and accusations to level against Intel. His...
Monday Apple Rumors: Apple May Discontinue the iPhone X in 2018 InvestorPlace (Yesterday) - InvestorPlace - Stock Market News, Stock Advice & Trading TipsMonday's Apple Rumors include a movie leaking early on iTunes due to a glitch, a possible upgrade for iPhone 6 Plus...