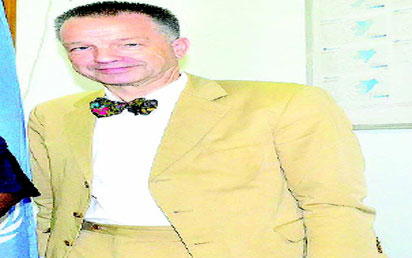 German Ambassador to Nigeria, Dr Bernhard Schlagheck, has pledged his country's support to assist Nigeria address the challenge of irregular migrants from Nigeria to other countries.

The post Irregular migration: Germany pledges to assist Nigeria appeared first on Vanguard News....
By: Vanguard - Tuesday, 13 March
Related Posts
In the last 2 hours
International Centre For Migration Policy Development Commends ECOWAS Modern Ghana (Today) - Mrs Mojisola Sodeinde, the Head, International Centre for Migration Policy Development (ICMPD), West Africa, has lauded the ECOWAS Commission for its achievements in promoting regional integration, setting the example for...
Internal Migration Within West Africa High Modern Ghana (Today) - Although it was generally assumed that African migration flows are mainly directed toward Europe, existing evidence indicates that most migration in West Africa happens within the region and remains extensively...
Older News
Frontal Action Against Illegal Migration Leadership Newspapers (2 days ago) - Recently, the Social Development Secretariat (SDS) of the Federal Capital Territory Administration (FCTA) commenced sensitisation programme on the dangers of illegal migration. DAVID ADUGE-ANI writes on the essence of the...
Research Reveals Illegal Migrants From Africa Are Not Poor Modern Ghana (2 days ago) - While poverty has often been blamed for the massive flow of migrants from Africa to Europe, research findings show that irregular migrants are not the poorest in the African society....
NSCDC deploys 50 motorcycles for patrols in Taraba The Punch (2 days ago) - The Nigeria Security and Civil Defence Corp has deployed 50 motorcycles to its Taraba Command to enhance patrol of flashpoints in the state. The State NSCDC Commandant, Kamilu Isah, disclosed...
European Studies Centre Dissects Migration Modern Ghana (2 days ago) - Director For the Centre For European Studies (CES) of the University of Ghana, Legon, Prof Ransford Gyampo, has said that considering the reason for migration for greener pastures by young...
Trump candidate for UN migration agency: Judge my actions Miami Herald (2 days ago) - U.S. President Donald Trump's nominee to head the U.N. migration agency acknowledges a controversy over his social media posts about Muslims and other topics, but insists "retweets are not endorsements"...
Asylum: Germany processes more applications than other EU states combined Deutsche Welle (2 days ago) - Just as it did the previous year, Germany handled more asylum applications in 2017 than all fellow EU members combined. The way Germany interprets the Dublin agreement suggests the discrepancy...
Reojoinder: NPP Germany Elects Rev Alex Acheampong As Chairman Modern Ghana (2 days ago) - Our attention has been drawn to a news item which appeared on Ghanaweb and other media outlets claiming Rev Alex Acheampong has been re-elected Chairman of NPP-Germany to lead the...
Rev. Alex Achaempong Retained As NPP Germany Chairman Modern Ghana (3 days ago) - The delegates of NPP Germany on Saturday 17th March 2018 re-elected the incumbent chairman Rev Alex Acheampong to continue as the National Chairman of NPP Germany for the next four...