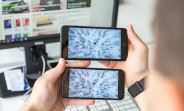 iIf you're not acquainted with KGI Securities' analyst Ming-Chi Kuo, he's the one that projected that Apple is readying three new iPhones for 2018 - two OLED ones with 5.8-inch and 6.5-inch panels, and one LCD iPhone with a 6.1-inch screen.

Well, the same market analyst now says that Apple could ship up to 100 million 6.1-inch LCD iPhones before 2018 is over and at $700-$800 a pop.

If the predictions are true the 6.1-inch LCD iPhone will replace the iPhone 8 as the cheapest option, while the 5.8-inch OLED iPhone will...
By: GSMArena.com - Wednesday, 14 February
Related Posts
Older News
Apple Loop: iPhone Sales Falling, Apple's Awkward OLED Screen Issues,Serious iOS Problems Forbes (Yesterday) - This week's Apple Loop includes the latest iPhone sales figures for 2017, Apple's OLED screen problems, the second generation AirPods, MacBook's market share, lots of OS updates, and smart punctuation...
Apple's AirPower wireless charging mat could launch in March Engadget (Yesterday) - Apple may be close to launching another one of the numerous products it teased last year. Sources talking to both MacOtakara and the Apple Post have claimed that the company's...
An Apple employee rings 911 by accident… 1,600 times The Next Web (Yesterday) - Two 911 call centers in California have confessed to getting hundreds of calls from a single location. The caller? Apple — specifically a repair center in Elk Grove. No one...
Google needs to give the AirPods better competition TechCrunch (Yesterday) -  In the race for in-ear AI, Apple has the clear advantage despite the fact that their intelligent assistant is one of the dumbest of the bunch. Yesterday, reports emerged that...
Friday Apple Rumors: AirPower May Release As Soon as March InvestorPlace (Yesterday) - InvestorPlace - Stock Market News, Stock Advice & Trading TipsFriday's Apple Rumors include Carol Trussell joining Apple's Worldwide Video Programming division, a large numbers of 911 false alarms from an...
Did You Miss Your Chance to Buy Apple Inc. Stock? InvestorPlace (Yesterday) - InvestorPlace - Stock Market News, Stock Advice & Trading TipsApple Inc. has recovered a bulk of its losses from earlier this month. But only a slight decline is needed for...
Apple may release AirPower wireless charging pad next month Mashable (Yesterday) - Apple will launch its own wireless charger that can charge and iPhone, an Apple Watch, and a pair of AirPods in their case — all at the same time —...
ISL 2017-18: Chennaiyin FC inch closer to semi-final spots after holding Kerala Blasters to goalless draw Firstpost (Yesterday) - Chennaiyin FC eked out a goalless draw against Kerala Blasters in Kochi Friday to inch closer to a play-off spot in the Indian Super League.The post ISL 2017-18: Chennaiyin FC...
Apple's Long-Awaited AirPower Could Launch in March Fortune (Yesterday) - Get ready to charge your Apple hardware....
Sony's new flagship Xperia XZ2 and XZ2 Compact phones leak ahead of MWC The Verge (Yesterday) - Sony's Mobile World Congress plans seem to have leaked out ahead of time: details for its new flagship Xperia XZ2 and XZ2 Compact smartphones have hit the internet a few...