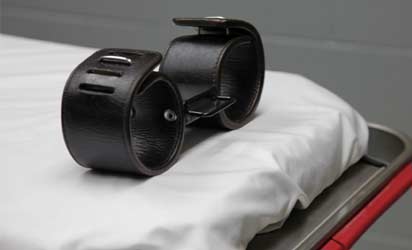 DELTA State High Court sitting in Issele-Uku, Aniocha North Local Government Area, has sentenced killers of Pa Felix Boise, 75 years old uncle of Dr. Ibe Kachukukwu, Minister of State for Petroleum Resources to death by hanging.

The post Killers of Kachikwu's uncle sentenced to death by hanging appeared first on Vanguard News....
By: Vanguard - 5 days ago
Related Posts
Older News
Colorado man gets life in prison for shooting wife to death Washington Times (Yesterday) - COLORADO SPRINGS, Colo. (AP) - A man who shot his wife to death during a standoff near Colorado Springs has been sentenced to life in prison plus 32 years. The...
Brooklyn man gets 41 years in teen's shooting death Washington Times (Yesterday) - NEW YORK (AP) - A Brooklyn man has been sentenced to 41 years in prison for the 2016 shooting death of a teenage girl while she was babysitting. Taariq Stephens...
Nerul resident sentenced to life for scrap vendor's murder The Hindu (Yesterday) - Accused stabbed victim to avenge son's death...
Morocco sentences man to death over MP killing Modern Ghana (Yesterday) - A Moroccan court sentenced to death a man over the murder of a member of parliament and jailed his widow, in a case involving sex and money, the government said...
Professional climber's body found hanging in ice in Russia Daily Mail Online (Yesterday) - WARNING GRAPHIC CONTENT: An investigation has begun into the mysterious death of a Russian professional climber found dangling in ice from the roof of a student dormitory....
Marcello McCain, brother of U.S. man killed fighting for ISIS, sentenced to 10 years Washington Times (2 days ago) - The brother of a San Diego man who was said to be the first U.S. citizen fighting alongside the Islamic State group was sentenced on terrorism-related charges. Marcello Dsaun McCain,...
Omoku Massacre: Killers Of Rivers People Won't Go Free – Amaechi Leadership Newspapers (2 days ago) - Minister of Transportation, Rt. Hon. Chibuike Rotimi Amaechi, has declared that all those involved in the New Year Day massacre of over 22 people at Omoku, headquarters of Ogba/Egbema/Ndoni local...
Australian Bahais fear for relatives in Yemen after detainee sentenced to death Canberra Times (3 days ago) - The mayor of Hornsby in Sydney's north, Philip Ruddock, has spoken of his horror at the death sentence....
Fuel pricing: Kachikwu's desperate options – Henry Boyo Vanguard (3 days ago) - Thankfully, fuel stations have gradually reopened for 'normal' business, while the severe social agony and angst instigated by the recent acute scarcity, has significantly eased with the reported improvement in...
Fulani herdsmen are killers, not victims –Taraba govt The Punch (3 days ago) - Niyi  Odebode  and Eniola Akinkuotu, Abuja, John Charles and Justin Tyopuusu, Jalingo The Taraba State Governor, Darius Ishaku, has said any blackmail and propaganda employed by cattle breeders to turn...