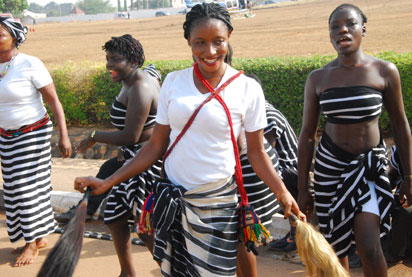 The umbrella body of Benue ethnic leaders including the Mdzough U Tiv, Idoma National Forum and Omi Ny'Igede have condemned the call for the declaration of a state of emergency in Benue state, by the Northern Coalition over the recurrent herdsmen killings in the state describing it as irresponsible and unacceptable

The post Killings: Benue ethnic leaders decry call for state of emergency appeared first on Vanguard News....
By: Vanguard - 6 days ago
Related Posts
Older News
Old students decry dilapidated infrastructure at Nshagu College Vanguard (Today) - ASABA—OLD students of Nshagu College, Ogwashi-Uku, Aniocha North Local Government Area, Delta State, class of 1978, have lamented the encroachment on the school's land and vandalization of its structures by residents...
Osun govt. urges FG to declare state of emergency on Fulani herdsmen attack The Sun News (Today) - Clement Adeyi, Osogbo The Osun State Government has called on the Federal Government to declare a state of emergency on the ongoing Fulani herdsmen menace in order to checkmate the...
Breaking: At last, police nab masterminds of Benue killings Vanguard (Today) - BARELY 51 days after Fulani herdsmen invaded Guma and Logo council areas of Benue State, killing 73 people mostly women and children in the process, the police have arrested principal...
Zamfara killings: Group urges govt. to assist affected communities Vanguard (Today) - The Coalition of Northern Groups (CNG), has called for census of all the communities affected by recent killings by bandits and cattle rustlers in the state with a view of...
Peel advocates call for action on gender-based violence after four women killed in two weeks Toronto Star (Today) - The string of killings in Mississauga and Brampton in January was condemned on social media soon after, but beyond that, there has been no outrage from the community, according to...
Maldives extends state of emergency by 30 days Al Jazeera (Today) - Ruling party legislators approve extension of state of emergency on island nation, in a vote opposition says is illegal....
Ethiopian FM: No Security Concerns in Country VOA (Today) - Ethiopia's foreign minister has said there are no security concerns in the country, despite a state of emergency imposed by the government last week.Officials made the declaration February 16, a...
We are not at war with Benue – Al-Makura The Punch (Today) - Adelani Adepegba, Abuja The Governor of Nasarawa State, Tanko Al-Makura, has said that his administration is not at war with Benue State over the implementation of the anti-open grazing law....
Zamfara Killings: Senate urges FG to flush out bandits Vanguard (Today) - The Senate on Tuesday urged the Federal Government to direct the Nigerian Air Force to use air surveillance to identify the location of suspected armed bandits involved in the Feb....
Herdsmen: Reps propose soft loans, education on ranching The Punch (Today) - John Ameh, Abuja The House of Representatives on Tuesday opened investigations into the incessant killings by herdsmen in the country. It said its probe of the killings would take a...