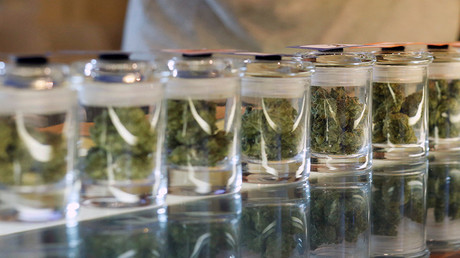 On the verge of becoming the largest US city to regulate recreational marijuana, Los Angeles city council president and two members are already bracing for potential problems in the bureaucratic system's structure.

Read Full Article at RT.com...
By: RT - Daily news - Wednesday, 6 December
Related Posts
In the last 2 hours
OMB approves Toronto's new ward boundaries and 3 new city councillors Toronto Sun (Today) - Civic government is getting bigger in Hogtown. On Friday, the Ontario Municipal Board approved a City of Toronto council decision to add three more councillors and make changes to the...
Older News
Mayor Sly James calls out council over KCI/Edgemoor decision The Kansas City Star (Today) - Kansas City mayor Sly James rips the city Council over their rejection of a memorandum of understanding between the city and Edgemoor for the construction of a new KCI terminal....
Council Bluffs Sues Over Tribe's Plan for Carter Lake Casino U.S. News (Today) - The city of Council Bluffs is suing the federal government to stop a Native American tribe from building a casino just seven miles away in Carter Lake....
California issues first recreational marijuana licenses weeks away from legal weed sales beginning Washington Times (Today) - California has begun licensing recreational marijuana businesses in anticipation of retail weed sales beginning January 1. The California Bureau of Cannabis Control issued 20 licenses Thursday for medical and recreational...
Lake Forest city manager: Nearly $200K spent lobbying without council OK Chicago Tribune (Today) - Longtime Lake Forest City Manager Bob Kiely said Thursday that in a quest to get an Amtrak stop on the city's west side, nearly $200,000 in city funds was paid...
Council Boss Promises More Developmental Projects Osun Defender (Today) - The Caretaker Management Committee, Ife North West Local Council Development Area, Edunabon, State of Osun, has assured the people of the council of more laudable projects during his tenure in...
City Council Passes Bill Forgiving Old Parking Tickets U.S. News (Today) - Philadelphia's City Council on Thursday passed a bill that forgives parking tickets issued before 2013....
Cabinet approves bill to replace Medical Council of India, to be tabled in Winter Session Firstpost (Today) - The four-tier structure for the regulation of medical education will have a 20-member National Medical Commission at the topThe post Cabinet approves bill to replace Medical Council of India, to...
City councilors receive death threats in text messages Washington Times (Today) - FALL RIVER, Mass. (AP) - Police are investigating threatening text messages sent to three members of a Massachusetts city council. The Herald News reports that Fall River Councilors Pam Laliberte-Lebeau,...
What happened to the KCI project on Thursday? Five things to know The Kansas City Star (Today) - The Kansas City Council voted 9-4 on Thursday to reject an agreement officials struck with Edgemoor, the company that the city selected to build the new KCI terminal. The document,...