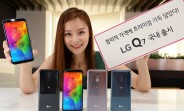 LG unveiled a trio of Q7 phones last month, and now it's back to fill us in on the pricing and availability details. The Q7 and Q7+ will go on sale tomorrow, June 15, in South Korea.

In a press release, LG said the Q7 and Q7+ will be available through all three mobile carriers in the country. The LG Q7 will cost KRW 495,000 tag ($455), while the plus version will go for KRW 570,000 tag ($525).

The press release also says the Q7 series will be available in Asia, Latin...
By: GSMArena.com - 7 days ago
Related Posts
Older News
MoviePass introduces surge pricing for the summer TechCrunch (Today) - Starting in July, you might have to pay a little extra to see the newest blockbusters when using MoviePass . The movie subscription service has plans to instate surge pricing...
Madison Pettis Reveals Her Favorite Thing About New Series 'Five Points' Just Jared Jr. (Today) - Madison Pettis is opening up about her new series, Five Points, which airs on Facebook Watch. The 19-year-old actress plays Tosh in the series opposite Hayley Kiyoko, Spence Moore, Ray...
North Korea has a massive air force — here's why it's basically a joke Business Insider (Today) - North Korea's air force has approximately 1,650 aircraft, but only about 75 of its jets are modern enough to stand any chance against the US and South Korean forces -- and...
South Korea to ban killing of Dogs Vanguard (Today) - A revised animal protection law that aims to ban killings of dogs has been proposed by lawmakers in Seoul.The post South Korea to ban killing of Dogs appeared first on...
South Korea president Moon Jae-in sets off on three-day visit to Russia for meeting with Vladimir Putin Firstpost (Today) - South Korean President Moon Jae-in left on Thursday for a three-day visit to Russia, during which he will meet his Russian counterpart Vladimir Putin.The post South Korea president Moon Jae-in...
Clocking out: South Korea prepares for shorter working week France 24 (Today) - A big change is on the way for workers in South Korea. From July 1st, the maximum working week, including overtime, is being cut by almost a quarter. We delve...
Bear necessities: cooler home for South Korea's last polar bear Free Malaysia Today (Today) - Born in captivity at a zoo in the southern city of Masan, Tongki is the only polar bear in South Korea and has been living alone in Everland since his...
South Korea could ban eating dogs after court ruling Daily Mail Online (Today) - The meat has long been a part of South Korean cuisine, with about one million dogs eaten annually, but a landmark decision could pave the way to outlawing eating canines....
No Signs Yet of North Korean Denuclearization    VOA (Yesterday) - A week after U.S. President Donald Trump proclaimed North Korea no longer posed a nuclear threat, his top military official cautioned there are no new signs Pyongyang is doing anything...
England set South Africa record 251 target: women's T20 international – live! The Guardian (Yesterday) - England make world-record 250-3 totalTammy Beaumont hits 116 from 52 ballsYou can email Rob here with your thoughts 7.15pm BST 1st over: South Africa 0-0 (Lee 0, Wolvaardt 0) As...