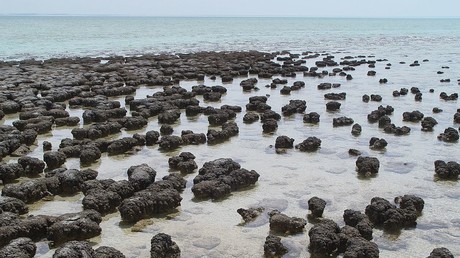 Living specimens of stromatolites – the oldest evidence of life on Earth – have been found deep within a remote, protected World Heritage Area in Tasmania, Australia. Read Full Article at RT.com...
By: RT - Daily news - 6 days ago
Related Posts
Older News
'The situation is critical': cholera fears on Manus as water and medicine run out | Ben Doherty The Guardian (Yesterday) - Special report: After the wells were poisoned, many of the 400 refugees living in Australia's former detention centre face life-threatening illnesses The piercing pain in Joinul Islam's right arm keeps...
Santa comes to town: Toronto's Santa Claus parade brings the 'energy' Toronto Sun (Yesterday) - Santa came to the town for the 113th time on Sunday. For a parade that started with one float on Dec 2,1904 — bringing Santa from Union Station to the...
Globe editorial: Australia welcomes gay marriage, but much of the world lags behind The Globe and Mail (Yesterday) - If all goes as expected, Australia will legalize same-sex marriage by Christmas. This after a postal survey sent to 16-million homes had a nearly 80-per-cent participation rate and returned the...
Storm Numa forms in in the Mediterranean Al Jazeera (Yesterday) - A medicane forms in the Ionian Sea and leaves at least 19 people dead Greece....
80 Percent of Debris Dump Sites High in Toxins U.S. News (Yesterday) - In testing of soil samples last spring, the Illinois Environmental Protection Agency found higher-than-allowable toxins in 80 percent of the quarries and excavation pits licensed to accept "clean construction-demolition debris"....
Pod Particulars: How To Make Shared Living Work In Retirement Forbes (Yesterday) - What is Pod living in retirement? Imagine a space or a place that you can share life and expenses with friends. I'm not talking about a 55+ community in Florida;...
The Shakespearean excesses and political intrigues that drove Africa's oldest strongman out of power Los Angeles Times (Yesterday) - Robert Mugabe, remote, aloof and arrogant, regards himself as the last of the African liberation war heroes, with no living peers left. He carefully created the militaristic state that kept...
Australia's homes the smallest in two decades, but still second largest globally: CommSec Canberra Times (Yesterday) - The nation's properties are now the smallest in two decades, with a shift towards apartment-living slashing the size of the average new dwelling, new research shows....
Zimbabwe's political drama: What just happened? A timeline Miami Herald (Yesterday) - The power of Zimbabwe's longtime President Robert Mugabe, the world's oldest head of state at 93, is slipping away. Placed under military house arrest, the ruling party turning against him,...
England bowl Australia out in 18 overs to continue T20 dominance - The Guardian Google News U.K. (Yesterday) - The GuardianEngland bowl Australia out in 18 overs to continue T20 dominanceThe GuardianEngland now have a chance to secure the T20 mini-series on Tuesday. Photograph: Mark Nolan/Getty Images. Women's Ashes....