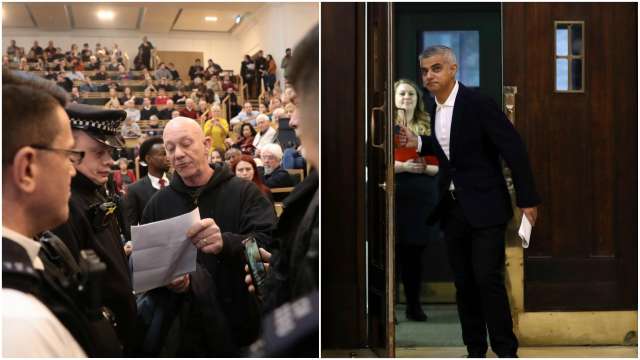 A group of far-right protestors, brandishing flags of the United States and pro-Brexit slogans, heckled London Mayor Sadiq Khan during a speech.

As per a report by UK's The Guardian, Khan was addressing a group on gender equality, when the protestors from the recently-formed White Pendragons made their protest.

Today at @thefabians conference I spoke about how we cannot allow a populist, anti-feminist narrative to take hold in Britain. Men must become better allies and progressives must fight back. #BehindEveryGreatCity #Fab18 pic.twitter.com/pbbOPH6zYv

— Sadiq Khan (@SadiqKhan) January 13, 2018

Shortly after Khan began speaking...
By: DNA India - 3 days ago
Related Posts
In the last 2 hours
Architect Patrik Schumacher: 'I've been depicted as a fascist' The Guardian (Today) - He has proposed eliminating social housing and privatising streets – so is Zaha Hadid's successor the most hated man in urbanism?When Patrik Schumacher, who took over as head of Zaha...
Older News
Trantalis and Roberts in runoff for mayor of Fort Lauderdale Sun Sentinel (Yesterday) - A fierce battle to lead the city of Fort Lauderdale is on, after voters Tuesday winnowed their choices for mayor and commissioners. Slow-growth candidate Dean Trantalis won the most votes...
Panama Hotel looks to dump Donald Trump but his company won't go Global News (Yesterday) - The owners of a Trump-branded hotel in Panama sued Donald Trump's family-owned company in federal court Tuesday,...
Back Brexit law or risk chaos, May's Conservatives tell MPs Eyewitness News (Yesterday) - Even if Labour vote against, May should be able to win a vote thanks to an arrangement with a small, pro-Brexit Northern Irish Party....
The Latest: Homeland secretary unclear on Trump vulgarity Miami Herald (Yesterday) - The Latest on President Donald Trump (all times local): 9:10 p.m. President Donald Trump's Homeland Security secretary is the latest GOP official to offer an inconclusive version of a meeting...
Brexit: Conservatives urge 'unity' ahead of EU bill vote BBC (Yesterday) - The government's Brexit bill is expected to clear the Commons, but peers may then try to change it....
How an immigrant to Canada helped Donald Trump prove his cognitive health Global News (Yesterday) - U.S. President Donald Trump has aced a test on his mental health - likely putting to rest days of Washington political gossip. And one Arab-Canadian couldn't be prouder....
Wright: Arsenal transfer deals all feel 'panicky' Goal.com (Yesterday) - The former Gunner feels the London outfit's transfer moves are being done more out of panic than anything else...
Cranberries Singer Dolores O'Riordan's Death Not Being Treated as Suspicious ET Online (Yesterday) - Singer Dolores O'Riordan's sudden death in London, England, on Monday is not being treated as suspicious, London's Metropolitan Police tells ET.A spokesperson for the police said Westminster officers responded on...
See how your mental fitness compares to that of self proclaimed 'stable genius' Donald Trump CNBC (Yesterday) - President Donald Trump got a perfect score on the Montreal Cognitive Assessment exam, said Dr. Ronny Jackson....