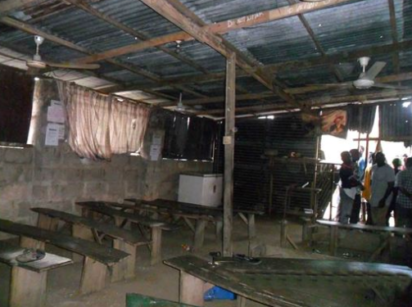 Manchester United FC of England(Man U) has sent condolences to the families of football fans who died while watching Thursday night's UEFA Europa League match against Anderlecht.

The post Man U, Britain mourn victims of calabar viewing center tragedy appeared first on Vanguard News....
By: Vanguard - 6 days ago
Related Posts
Older News
Ita Giwa lights candles for Man-U dead Vanguard (Yesterday) - THIS evening in Calabar, a solemn procession will be activated as Senator Florence Ita Giwa superintends over a candle light ceremony in memory of those who lost their lives while...
How NOT to get ripped off according to Angela Rippon Daily Mail Online (Yesterday) - Angela Rippon, 71, has spent nearly a decade helping British consumers and victims of scams on how to protect themselves. She's back for a ninth series of the Rip Off...
Victims of German anti-gay law finally get their day in the Bundestag Deutsche Welle (Yesterday) - On Friday, Germany's parliament begins debating whether to rehabilitate and compensate homosexuals convicted under the notorious paragraph 175. It's a symbolic gesture, but one that victims appreciate....
32 soldiers get new houses in Cross River Vanguard (2 days ago) - CALABAR—The 13th Brigade of the Nigerian Army, Calabar, Cross Rivers State, yesterday, handed over keys to a block of 32 flats to soldiers at Akim Army Barracks in Calabar.The post...
Phedc donates drugs, cash to Calabar viewing centre victims Vanguard (2 days ago) - Port Harcourt Electricity Distribution Company, PHEDC, yesterday, donated drugs, cash and other items to victims of the Calabar viewing centre electrocution incident at the University of Calabar Teaching Hospital, UCTH.The...
Reps Mourn, Extol Adeleke's Virtues Leadership Newspapers (2 days ago) - Following the death of Senator Isiaka Adeleke, the House of Representatives yesterday, adjourned plenary to mourn the the late Senator who died on Sunday. However, the lawmakers before that, took...
Global fugitive to be extradited over people smuggling tragedy after serving NSW jail term Canberra Times (2 days ago) - The man, with three identities and who speaks 11 languages, will be extradited over a people smuggling tragedy....
Drop clause in affidavit,urge chit fund victims The Hindu (3 days ago) - VR Chits and Depositors Victims Welfare Association stages dharna...
Cultists storm Ebonyi viewing centre, injure student The Punch (3 days ago) - Suspected cultists on Sunday night stormed a football viewing centre in Abakaliki during the match between Real Madrid and Barcelona in Madrid, critically injuring their victim, the News Agency of...
Cross River clans' land scuffles threaten Calabar FTZ Vanguard (3 days ago) - THE recurrent bloody hostilities over land among communities along the Ikom-Calabar Highway, especially Obubra Local Government Area, Cross River State, are unnecessarily unsettling business at the Calabar Free Trade Zone,...