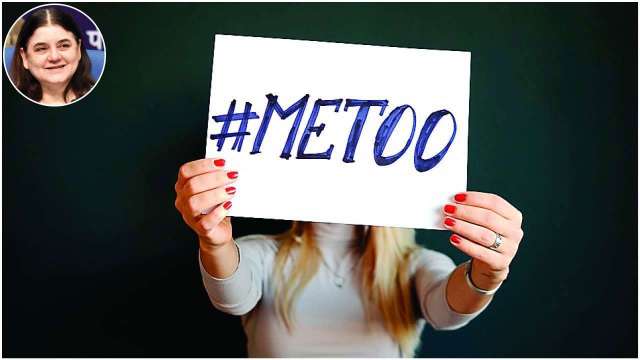 A four-member retired judge panel will conduct a public hearing regarding the cases of sexual harssment by thousands of women on social media.

Earlier, Maneka Gandhi had said the allegations of sexual harassment against anybody, including ministers, should be taken seriously as women are often scared to speak out.

"There should be an investigation. Men who are in positions of power often do this. And it applies to the media as well as to politics or senior personnel in companies," Gandhi told news channel India Today TV when asked to comment on...
By: DNA India - 7 days ago
Related Posts
Older News
New chief judge for 9/11 case at Guantanamo Free Malaysia Today (Today) - Douglas Watkins, a US army colonel, replaces now-retired colonel James Pohl....
It's OK to get naked during a peep show — the law has you covered Sun Sentinel (Today) - What you do in a private booth at an adult store is your own business. It's not a public place, a judge says. Broward County judge Ginger Lerner-Wren dismissed charges...
Is 'The Hills' Reboot Getting A New Cast Member? OK! Magazine (Today) - MTV's The Hills is coming back to the small screen next year with a reboot and fans couldn't be more excited. With most of the old California gang coming back and...
Colonel who responded to 80s Berlin bombing named Guantánamo's chief war court judge Miami Herald (Today) - Secretary of Defense Jim Mattis has chosen an Army colonel with experience handling terrorism cases dating back to the 1986 Berlin disco bombing to serve as chief judge of the...
Grooming gang whose court cases were protested by Tommy Robinson - jailed for 221 years RT - Daily news (Today) - A grooming gang, whose hearings were protested by EDL-founder Tommy Robinson, have been given jail terms totaling 221 years, after launching a "campaign of rape and other sexual abuse" against...
Several public hearings set for Tuesday in Albany County Times Union (Today) - Albany County legislators are gearing up for a marathon of public hearings on proposed local laws next Tuesday – from paid sick days to the county budget.County residents will get...
Ranil Wickremesinghe in Delhi, Durga Puja festivities end, and other news in pictures The Hindu (Today) -  2.00 pmRanil Wickremesinghe in DelhiSri Lankan Prime Minister Ranil Wickremesinghe on Friday met Congress President Rahul Gandhi, Ms. Sonia Gandhi an...
In the time of #MeToo, judiciary must provide media houses adequate protection against defamation cases Firstpost (Today) - #MeToo has taken India by storm. Despite certain speed bumps, this progressive movement is at full swing and there are high hopes that this will lead to a change for...
Exclusive – U.S. asks for WTO panel over metals tariff retaliation Firstpost (Yesterday) - By Trevor Hunnicutt and Nerijus Adomaitis WASHINGTON/OSLO (Reuters) - The United States is requesting that a World Trade Organization dispute resolution panel get involved in a clash over international retaliation...
Judge's ruling on Roundup is good news for farmers, consumers Washington Times (Yesterday) - It's good news for consumers that a superior court judge may put the brakes on a case alleging that the popular killer Roundup causes cancer. The science behind this claim...