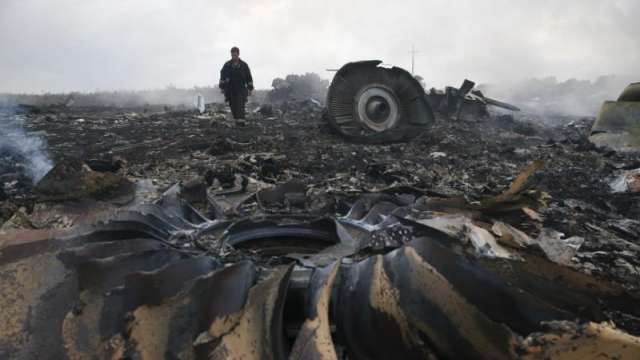 Families of those killed when a Buk missile blew Malaysia Airlines Flight 17 out of the sky above Ukraine in 2014 have called on US President Donald Trump to press his Russian counterpart Vladimir Putin to provide answers about the downing.

In a letter to Trump published Friday on Twitter, relatives of about 30 of the 298 passengers and crew killed on July 17, 2014, say "we have a right to know what happened to our loved ones." The letter was posted to Twitter by

Thomas Schansman, whose 18-year-old son Quinn, a...
By: DNA India - 7 days ago
Related Posts
New In Last Hour
Boy, 5, gets new Mercedes for doing 4,105 press-ups non-stop Metro (Today) - Ramzan Kadyrov, a close lieutenant to Vladimir Putin, gave Rakhim Kurayev the keys to the luxury car as a reward for the boy's 2 hours 25 minutes achievement....
Older News
Blanket ban on use of word 'Dalit' in media not feasible, Press Council of India tells information and broadcasting ministry Firstpost (Today) - The Press Council of India on Thursday said that "a blanket ban on the usage of the word Dalit was neither advisable nor feasible", deciding against an advisory of the...
Japan PM tells Putin no U.S. bases on disputed isles if handed over: Asahi Reuters (Yesterday) - Japanese Prime Minister Shinzo Abe, eager to resolve a row that has haunted ties with Moscow since World War Two, has told Russian President Vladimir Putin the United States would...
Appeal: Nyame, Dariye Know Fate Today Leadership Newspapers (Yesterday) - The Court of Appeal, Abuja, will today, November 16, 2018, decide the fate of Reverend Jolly Nyame and Senator Joshua Dariye of Taraba and Plateau states respectively. They are currently...
The politicians are having it tough in Old Blighty, too Washington Times (Yesterday) - And you think we've got it bad. We have the chaotic confusion over counting votes from the elections in Florida (so what else is new?), Robert Mueller's endless pursuit of...
Trump's attack on the First Amendment Chicago Tribune (Yesterday) - When the Founding Fathers established freedom of the press as a constitutional right, they didn't hedge their support with the phrase as long as they're nice about it. A free...
Why Sarah Silverman Is 'Thankful' for Donald Trump The Daily Beast (Yesterday) - From the beginning, Sarah Silverman's I Love You, America has been all about connecting with people outside of her Hollywood liberal bubble. And in this week's season finale, that generous...
Meghan McCain Accepts Human Rights Award on Behalf of Her Late Father   People.com (Yesterday) - Meghan McCain is carrying on Sen. John McCain's legacy in his place.At the Sergei Magnitsky Human Rights Awards on Thursday, the co-host of The View accepted the award for outstanding contribution to human...
Judge delays ruling till Friday on CNN reporter Jim Acosta's White House press credentials; Donald Trump insists 'guys like Acosta are bad for the country' Firstpost (Yesterday) - A federal judge has delayed his decision on whether to order the Donald Trump administration to return the White House press credentials of CNN reporter Jim Acosta.The post Judge delays...
Every sentence of Trump's tweet accusing Democrats of "collusion" with Russia is a lie Vox (Yesterday) - Remarkable dishonesty, even by Trump's standards. President Donald Trump posted a string of rage-tweets on Thursday morning. He began by attacking the "FAKE NEWS MEDIA," then pivoted to blasting special...