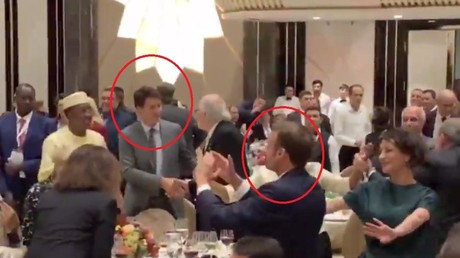 It looks like British PM Theresa May has passed on her dancing craze to other world leaders as French President Emmanuel Macron and Canadian PM Justin Trudeau were spotted showing off their moves at a dinner party in Armenia. Read Full Article at RT.com...
By: RT - Daily news - Friday, 12 October
Related Posts
Older News
Sister of British biker gunned down in French Alps posts defiant message Daily Mail Online (Today) - Katie Toghill - who has claimed that she was raped by her brother Marc Sutton - said that 'life can move forward' after the 34-year-old was killed near Morzine in...
Italy sends police to French border after alleged migrants returned Deutsche Welle (Today) - Interior Minister Matteo Salvini said the time for joking around was over. French officials said the procedure of returning asylum-seekers was routine, but Salvini demanded answers from French President Emmanuel...
RaeLynn Shows Off Her Dance Moves in Fun New 'Tailgate' Video [Watch] Taste of Country (Today) - She shows off her playful side in the new clip.Continue reading…...
Brexit BLUNDER: Macron makes EMBARRASSING mistake over French visas after UK leaves EU Express UK (Yesterday) - FRENCH President Emmanuel Macron committed a linguistic faux pas on Friday by accidentally claiming UK visitors would need French visas if there is no-deal Brexit, aides have said....
Design by British firm BAE picked for Canada's $60B warship replacement program National Post (Yesterday) - The Canadian Surface Combatant project will see the Halifax-based Irving build 15 warships, which will form the backbone of the future Royal Canadian Navy...
Zut alor! French MP calls for mockery of accents to be made ILLEGAL  Daily Mail Online (Yesterday) - Laetitia Avia of President Macron's party proposed a bill to outlaw 'Glottophobia' - or discrimination based on accents. This would make linguistic traits protected in the same way as a...
French lawmaker proposes bill to outlaw mockery of accents Reuters (Yesterday) - A French member of parliament has proposed that mockery of accents be outlawed, after an irate politician derided a journalist's southwestern pronunciation before asking if anyone had a question in...
ABT 2018 Fall Gala Celebrates Women, Raises $1.5 Million Forbes (Yesterday) - "We are giving young choreographers opportunities to create pieces that our children and grandchildren will watch in awe, and introducing the next generation of dancers and patrons to the magic...
Wake up, UK! Emmanuel Macron is right – you urgently need a Brexit plan | Pauline Bock The Guardian (Yesterday) - The EU's red lines have never changed. So why does the truth seem to hurt more when it's delivered in a French accent?Dear United Kingdom, Emmanuel Macron would like you...
James Corden Combines 'Making a Murderer' and 'Halloween' So You Don't Have to Choose Today (Video) TheWrap (Yesterday) - Netflix's "Making a Murderer" Season 2 and Blumhouse's "Halloween" both came out today, so how does one choose which to watch? Well, James Corden just combined the two into one...