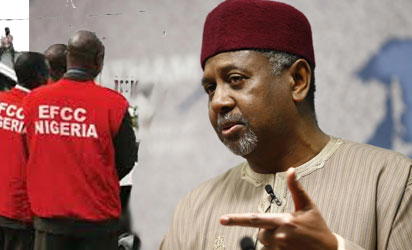 A Federal High Court in Lagos will on April 23 rule on a suit filed by ex-President Goodluck Jonathan's cousin, challenging his arrest and detention for alleged N650 million fraud.

The post N15bn Dasuki's dole out: Court to rule on Jonathan's cousin's human rights suit April 23 appeared first on Vanguard News....
By: Vanguard - 5 days ago
Related Posts
Older News
Philippines' Duterte urges other nations to quit ICC France 24 (Today) - Philippine President Rodrigo Duterte on Sunday urged other nations to follow his move to quit a treaty underpinning the International Criminal Court which is examining his deadly drug war.Duterte lashed...
Human rights concerns cast shadow over ASEAN summit Canberra Times (Yesterday) - A human rights crisis will cast a shadow over Malcolm Turnbull's closed-door talks with regional leaders in Sydney....
Homosexuality Is As Ghanaian As Albinism Modern Ghana (Yesterday) - Mr. Moses Foh-Amoaning cannot be really interested in the protection and preservation of ldquo;Proper Human Rights and Family Values, rdquo; else the renowned lawyer would not be dead-set against the...
News24.com | Numsa to march against new labour laws on Human Rights Day News24 (Yesterday) - The National Union of Metalworkers of South Africa (Numsa) have announced that they will be marching in Gauteng on Human Rights Day to protest against the proposed new labour laws...
N5.1bn Fraud: EFCC closes case against ex- Jonathan's aide, Dudafa Vanguard (Yesterday) - Former Senior Special Assistant to President Goodluck Jonathan on Domestic Affairs, Warapamo Dudafa, currently facing trial over alleged N5.1 billion fraud before a Federal High Court sitting in Lagos, through...
Court axes FCC robocall rule for being too broad Engadget (Yesterday) - The previous FCC leadership took some aggressive steps to fight robocalls, but they've just been scaled back. A DC Circuit appeals court has shot down an FCC rule for reportedly...
IPOB writes UN, asks FG, President Buhari to obey ACHR decision Vanguard (Yesterday) - The Indigenous People of Biafra, IPOB, has notified the United Nations about the ruling of the African Commission on Human and Peoples Rights, ACHR, against the Nigerian government and asked...
UN Committee lauds Bangladesh's human rights achievements: Foreign Ministry bdnews24.com (2 days ago) - The UN Committee for Economic, Social and Cultural Rights has lauded the achievements of Bangladesh in the realisation of human rights, the foreign ministry says....
Impact On IRAs From Appeals Court Striking Down Department Of Labor's Fiduciary Rule Forbes (2 days ago) - The 5th Circuit of Appeals have vacated the DOL's fiduciary rule. The Appeals Court concluded that the DOL did not have the authority to extend the application of the Fiduciary...
Even Without The Rule, Fiduciary Awareness Remains Forbes (2 days ago) - While a recent court ruling could end the Fiduciary Rule as law, it cannot erase the awareness the DoL raised nor can it stop market forces leading the business towards...