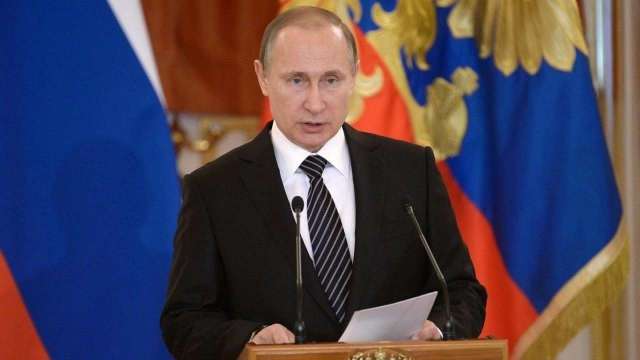 NATO Secretary General Jens Stoltenberg today said the alliance was deeply concerned about the attack on a Russian former double agent in Britain and was in contact with UK authorities about the matter.

"The UK is a highly valued ally, and this incident is of great concern to NATO. NATO is in touch with the UK authorities on this issue," Stoltenberg said in a statement issued by his office.

Stoltenberg made his remark hours after British Prime Minister Theresa May said it was "highly likely" that Russia was responsible for the poisoning...
By: DNA India - 6 days ago
Related Posts
New In Last Hour
Grand events, photo ops cannot substitute effective diplomacy: Congress on govt's foreign policy The Hindu (Today) - "Congress expresses its concern over the conduct of foreign policy in a cavalier manner, which has damaged India's profile globally and undermined national interest," the resolution on foreign policy said....
Older News
Barkindo Expresses Concern Over Dwindling Investment Leadership Newspapers (Yesterday) - The secretary-general, Organisation of the Petroleum Exporting Countries (OPEC), Mohammed Barkindo , has warned of the inherent danger of the continued drop of investment into the world's oil sector. According...
NATO Eyes Changes at July Summit After Attack Blamed on Russia: Welt Am Sonntag U.S. News (Yesterday) - BERLIN (Reuters) - NATO must improve its defensive capabilities and willingness to act in the wake of increasingly aggressive and unpredictable......
UK finance, power and water on highest alert as threat of Russian cyber reprisal grows The Guardian (Yesterday) - Britain's infrastructure ready as intelligence service warns of risk of virtual strike by MoscowBanks, energy and water companies are on maximum alert over the threat of a serious cyber-attack from...
Expats in UAE prefer healthcare back home: Study Khaleej Times (Yesterday) - The concern related to affordability of healthcare medical concern is of considerable interest....
From Russian spy poisoning to diplomatic tensions France 24 (Yesterday) - Here are the main developments since the poisoning of a Russian former double agent in England sparked soaring diplomatic tensions between London and Moscow.- Poisoning in English city -On March...
The Latest: Russian election monitor fears vote day pressure Miami Herald (Yesterday) - The Latest on Russia's presidential election (all times local): 2:45 p.m. A Russian election monitoring group is warning that independent observers may be targeted by an "attack" on voting day....
Russia to expel 23 British diplomats amid tensions over nerve agent attack on ex-spy Sergei Skripal in UK Firstpost (Yesterday) - The move by the Russian foreign ministry came in response to Britain's decision to expel 23 Russian diplomats.The post Russia to expel 23 British diplomats amid tensions over nerve agent...
Sergei Skripal: Russia expels 23 British diplomats - The Guardian Google News South Africa (Yesterday) - The GuardianSergei Skripal: Russia expels 23 British diplomatsThe GuardianThe British ambassador to Russia, Laurie Bristow, leaves leaves the Russian foreign ministry in Moscow. Photograph: Gleb Garanich/Reuters. Russia has expelled 23...
Sergei Skripal: Russia expels 23 British diplomats The Guardian (Yesterday) - Russian foreign ministry summons British ambassador to inform him of action that follows UK's expulsion of 23 Russian diplomatsRussia has expelled 23 British diplomats in a deepening geopolitical dispute over...