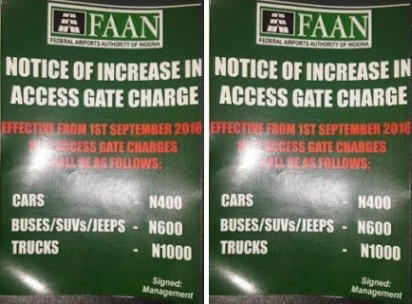 The Federal Airport Authority of Nigeria, FAAN, will host this year's 59th Airport Council International, ACI-Africa, conference.

The post Nigeria hosts Airport Council International confab appeared first on Vanguard News....
By: Vanguard - Monday, 12 March
Related Posts
Older News
SERVICOM Units Urged To Maintain Service Standards At Airports Leadership Newspapers (Yesterday) - The general manager, Customer Service, Federal Airports Authority of Nigeria (FAAN),  Mrs. Ebele Okoye, has urged Service Compact With All Nigerians (SERVICOM)  personnel to maintain service standard and time in...
CPC Moves To Regulate Online Marketing Leadership Newspapers (Yesterday) - The Consumer Protection Council ( CPC), has said that a new institutionalised guideline framework that would regulate online marketing transactions would soon come into full force. The Council said the...
Scientists Link Brain Drain To Paucity Of Research Funds Leadership Newspapers (Yesterday) - Scientists have identified paucity of research funds as one of the most critical factors responsible for brain drain in Africa. They made this known at a stakeholders' workshop with the...
Ushafa Community Decries Water Scarcity Leadership Newspapers (Yesterday) - Residents of Ushafa district in Bwari area council have appealed to the Federal Capital Territory Administration (FCTA) to connect the community to the water grid. Some of the residents, who...
'Nigeria Needs Exemplary Leadership To Overcome Challenges' Leadership Newspapers (Yesterday) - The chairman of Gwagwalada Area Council, Adamu Mustapha Danze has said that the nation needs leadership by example to overcome challenges bedevilling it. Hon Adamu stated this over the weekend...
Poor Examination Outcomes In Nigeria Leadership Newspapers (Yesterday) - Out of the 11,721 candidates who sat for the newly introduced February diet of the West African  Senior School   Certificate Examination (WASSCE) by West African Examination Council (WAEC), about ...
Egyptians dominate Lagos Squash Classics seedings The Punch (Yesterday) - 'Tana Aiyejina The 2018 Lagos International Squash Classics began  on Monday with the qualifying round at the Molade Okoya-Thomas Hall of Teslim Balogun Stadium, Lagos, with 14 countries including hosts...
Volume up at YYC in 2017, despite economy: Calgary Airport Authority Global News (Yesterday) - The Calgary Airport Authority gave their annual report to Calgary city council Monday....
British Council's unfaltering steps excite arts and social scenes The Punch (Yesterday) - Beneficiaries of the British Council's interventions in Nigeria's arts, cultural and social landscapes give inspiring testimonies, AKEEM LASISI writes For many Lagosians and their jolly good neighbours, the past few...
Seriki calls for facility upgrade of Maritime Academy The Punch (Yesterday) - Etim Ekpimah, Uyo The Chairman of the Governing Council of the Maritime Academy of Nigeria, Oron, Akwa Ibom State, Chief Ademola Seriki, has called for improved facilities in the academy...