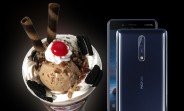 The Nokia 8 first received Android 8.0 at the end of November and recently started experimenting with a second serving - 8.1 Beta.

That didn't last long as the stable Android 8.1 Oreo update is now rolling out.Juho Sarvikas (CPO of HMD) just made the announcement, but at least one person in the Twitter thread has already downloaded the update.

Nokia 8 now receiving stable Android 8.1 Oreo

The update - V4.84A - has the same change log as the Beta version, except that the Security patch has been bumped up to February....
By: GSMArena.com - 6 days ago
Related Posts
New In Last Hour
Alleged Samsung Galaxy Tab S4 spotted with 10.5-inch display and 8MP front camera GSMArena.com (Today) - A new Samsung Galaxy device has appeared in a benchmark listing. The handset carries a model number of SM-T835, suggesting it could well be the Galaxy Tab S4 tablet given...
In the last 2 hours
Nokia 7 Plus hands-on image appears days before its expected unveiling at the MWC 2018 Firstpost (Today) - The Nokia 7 Plus is expected to be HMD Global's first phone to sport an 18:9 display with rounded sides and fine bezels.The post Nokia 7 Plus hands-on image appears...
Older News
Week 7 in review: Xiaomi Redmi Note 5 duo goes official GSMArena.com (Yesterday) - Week 7 was dominated by a pair of smartphones - the Xiaomi Redmi Note 5 and Redmi Note 5 Pro, with last minute leaks and coverage of the announcement dominating...
Google tests its answer to Apple's screenshot-editing tools Mashable (Yesterday) - One of the best features in iOS 11 was the addition of new markup features that made it much easier to edit screenshots without having to go find them in...
Sunday Debate: Custom ROM vs. Stock Android GSMArena.com (Yesterday) - In our sixth Sunday Debate we are arguing stock Android against custom ROM. What do you prefer - neat and clean OS or as many features out of the box...
These are the best VPNs for your Android device Mashable (2 days ago) - Every product here is independently selected by Mashable journalists. If you buy something featured, we may earn an affiliate commission which helps support our work.I resisted the urge to get...
"Proper Security In Nigeria Will Ensure A Stable Nation " Leadership Newspapers (2 days ago) - Former President Olusegun Obasanjo has said that a properly secured Nation like Nigeria will ensure a more stable and secured Nation, insisting that one of the things Nigeria needs to...
Android P rumors, animojis on the S9? video - CNET CNET (2 days ago) - The biggest tech stories of the week include the latest rumors about Android's next operating system, Apple's acknowledgement that HomePods can damage wooden surfaces, and Samsung's S9 is possibly getting...
Bayelsa is more peaceful, stable under Dickson – Obasanjo Vanguard (3 days ago) - FORMER President Olusegun Obasanjo yesterday commended Governor Seriake Dickson for the development and transformation of the state in the last six years, describing Bayelsa State "as more comparatively peaceful, secured...
Android Circuit: Samsung Confirms Galaxy S9 Features, USA Gets Slow S9, Android Mimics iPhone Notch Forbes (3 days ago) - This week's Android Circuit includes Samsung confirming key S9 details, the differences between the S9 and S9 Plus, why America gets a weaker Galaxy, HMD Global trouncing the competition, Huawei...