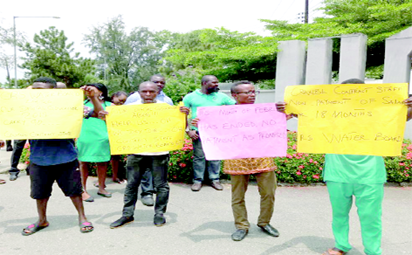 NUMEROUS workers of the Cross River Geographic Information Agency, CRGIA, and Cross River State Water Board Limited, CRWBL, Calabar, thrown out of their homes by their landlords for inability to pay house rent currently sleep in uncompleted buildings and churches.

The post NON-PAYMENT OF SALARIES: C'River workers forced to sleep in uncompleted buildings, churches appeared first on Vanguard News....
By: Vanguard - 3 days ago
Related Posts
New In Last Hour
Liverpool hospital makes patients sleep in cramped corridor Daily Mail Online (Today) - An elderly, terminally ill woman was forced to sleep in a corridor at Aintree Hospital in Liverpool for more than 20 hours alongside several other patients in 'war zone'-like conditions....
Older News
SystemSpecs' Remita cleaned up fraud in Benue's Payroll- Commissioner Vanguard (Today) - Benue State Commissioner for Finance and Economic Planning, Mr David Olofu has revealed that the engagement of SystemSpecs' Remita in managing the state's salary payment has helped rid the payroll...
These high-tech pajamas claim they will 'recharge the human body while you sleep' Business Insider (Today) - The pajamas are approved as a sleep-enhancing medical device....
World Sleep Day: How not getting enough sleep wrecks your skin Metro (Today) - There's a reason they call it beauty sleep, pals....
14 of the biggest myths about sleep, debunked Business Insider (Today) - We know that sleep restores the immune system, balances hormones, cleanses toxins from the brain, and more. But a huge number of myths about sleep persist....
The 8 sleep myths that are making you tired Daily Mail Online (Today) - Dr Neil Stanley, a member of the British Sleep Society, claims there are no hard and fast rules about the amount of sleep each of us needs. We all have...
World Sleep Day: 8 insomniacs reveal what it's really like when you can't get enough sleep Metro (Today) - 'Most days, I won't fall asleep until the morning.'...
World Sleep Day: This is the world's first sleep album led by scientific research Metro (Today) - Definitely playing this tonight....
Anxiety as Argungu River dries up The Sun News (Today) - Olanrewaju Lawal, Birnin-Kebbi Residents of Argungu, in Argungu Local Government Area of Kebbi State currently living in a palpable fear over the sudden dry-up of famous Argungu river.    The...
World Sleep Day: How sleep affects your sex life Metro (Today) - Get to bed....