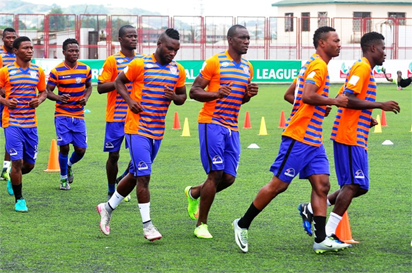 The Ondo State Government on Tuesday sacked the Head Coach of Sunshine Stars, Duke Udi with immediate effect and asked the former Coach of the team, Henry Abiodun to take over.

The post Ondo Govt. fires Sunshine Stars Coach appeared first on Vanguard News....
By: Vanguard - Tuesday, 13 March
Related Posts
Older News
Pregnant woman, husband, wives die in Ondo building collapse The Sun News (Yesterday) - Bamigbola Gbolagunte, Akure About six persons died  yesterday evening in Igbabo, Ese Odo Local Government Area of Ondo State as a church building, under construction, collapsed on them. The church,...
Kwadwo Asamaoh's Return To The Black Stars Lies In The Hands Of The Coach - George Afriyie Modern Ghana (Yesterday) - The vice president of the Ghana Football Association, George Afriyie believes the return of Kwadwo Asamoah back to the Black Stars solely lies in the hands of the head coach,...
Southeast Kansas arson fires under investigation Washington Times (Yesterday) - GALENA, Kan. (AP) - Authorities are investigating a string of arson fires in southeast Kansas. The Joplin Globe reports that three grass fires and a shed fire in Galena last...
50 Cent Fires Back At His Ex Vivica A. Fox Over Sex Osun Defender (Yesterday) - Big boy rapper 50 Cent has lashed out at his ex Vivica A. Fox who described their sex life as 'PG-13-rated' in her upcoming book "Every Day, I'm Hustling." Fox while...
Fewer vegetation fires seen in CT over past year Eyewitness News (Yesterday) - During the 2017/2018 financial year, there were more than 7,200 blazes of which more than 5,600 were vegetation fires....
Professional bodies kick against Land Use Charge in Ondo Vanguard (2 days ago) - THE Association of Professional Bodies of Nigeria, APBN, in Ondo state, yesterday, kicked against the introduction of Land Use Charge by the state government, warning Governor Rotimi Akeredolu "to drop the idea...
AAUA students kick against proposed hike in tuition fee The Punch (2 days ago) - Peter Dada, Akure A group of students in Ondo State, acting under the umbrella of the National Association of  Ondo State Students, on Monday took to the streets of Akure,...
Wa All Stars Coach Laments Midfielder David Abagna's Absence Modern Ghana (2 days ago) - Wa All Stars coach Alhaji Mumuni Sokpari says the absence of midfielder David Abagna had a toll on his side in their 1-0 defeat to Ashanti Gold SC on Sunday....
Yusif Abubakar Attributes CAF CL Exit To Weather Modern Ghana (2 days ago) - Head coach of Aduana Stars, coach Yusif Abubakar believes the weather in Algeria in his side losing to ES Setif. The Fire Boys were bundled out of the CAF Champions...
The mostly bad history of NBA All-Stars as college coaches ESPN (2 days ago) - Penny Hardaway won't be the first former NBA All-Star to try his hand at being a college head coach. A look back at those who tried before should worry Memphis...