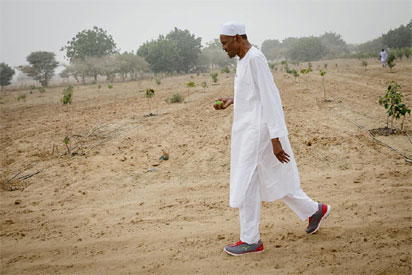 The Association of South East Town Unions, ASETU, has said only President Muhammadu Buhari can stop the rampaging Fulani herdsmen from inflicting more pain on Nigerians and urged him to act without further delay.

The post Only Buhari 'll stop Fulani herdsmen attack —S-East town unions appeared first on Vanguard News....
By: Vanguard - 4 days ago
Related Posts
New In Last 20 minutes
Dogara Reads Riot Act To Killer Herdsmen Leadership Newspapers (Today) - Kauthar Anumba-Khaleel,  Abuja Speaker of the House of Representatives, Yakubu Dogara has warned that there is no safe haven for those perpetrating series of killings across the country even as...
In the last 2 hours
Nexus between climate change and herdsmen crisis The Sun News (Today) - By Chiagozie Udeh Climate change is not ranked among the five top causes of conflict in Nigeria, namely, Tribalism, Resource Control, Religion, Land and Trade.  But that reality has been...
Older News
On, not at, (the) alert The Sun News (Today) - OVERHEARD at the Customer Service Unit of Zenith Bank Plc, Aguda branch, Enitan Street, Surulere, Lagos: "Do not use that as a criteria (criterion)…" (Tuesday, January 16, 2018, 9.30am) "Herdsmen:...
Herdsmen killings: Overhaul security council, CAN tasks Buhari The Sun News (Today) - • Falana to FG: Establish cattle ranches  By Chukwudi Nweje and Fred Ezeh, Abuja The Christian Association of Nigeria (CAN)  has urged President Muhammadu Buhari to overhaul the National Security...
Herdsmen killings: IPOB mocks Ohanaeze Ndigbo, South East govs The Sun News (Today) - From Jeff Amechi Agbodo, Onitsha The Indigenous People of Biafra (IPOB) yesterday lambasted South East governors and leadership of Ohanaeze Ndigbo for keeping mute in the ongoing killings of innocent...
Herdsmen attacks: Buhari running unworkable govt –Bisi Akande The Sun News (Today) - From Clement Adeyi, Osogbo Former interim national chairman of the All Progressives Congress (APC), Chief Bisi Akande, has upbraided President Muhammadu Buhari's presidential system of government which, he lamented, has...
Benue: Senate gives IG 14 days to arrest killer herdsmen The Punch (Today) - Leke Baiyewu, Abuja The Senate at an extended plenary on Tuesday debated the killings by Fulani herdsmen in Benue State and other parts of Nigeria. The lawmakers said their resolutions,...
Buhari lacks political will to halt killings by herdsmen –Reps The Punch (Today) - John Ameh, Friday Olokor, Justin Tyopuusu, John Charles,  Chidiebube Okeoma, Tony Okafor and Segun Olanrewaju Members of the House of Representatives on Tuesday blamed President Muhammadu Buhari for the escalating...
Benue, Taraba killings: States move to avert herdsmen attacks Vanguard (Today) - Following the killings in Benue and Taraba states in the new year by Fulani herdsmen, state governments across the country have begun putting in place measures to avert a similar...
Killings: IPOB charges South-East govs, Ohanaeze on open grazing ban Vanguard (Today) - AWKA—THE Indigenous People of Biafra, IPOB, said yesterday that it was surprised that the governors of the South-East states and the apex Igbo socio-cultural organisation, Ohanaeze Ndigbo, had not called...