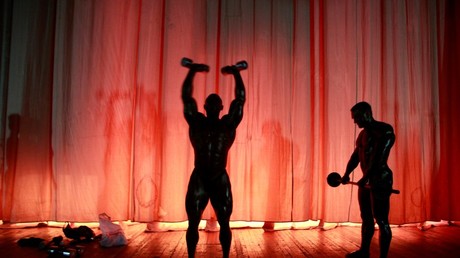 Mankind has had a good innings: people have become physically stronger, average life expectancy has risen in almost all nations, global population has topped 7 billion. But now scientists have issued a dire warning – the only way is down. Read Full Article at RT.com...
By: RT - Daily news - Thursday, 7 December
Related Posts
Older News
We're nearing 'peak media' as Americans consume over 12 hours a day Business Insider (Yesterday) - Business Insider's Henry Blodget explains why the US is approaching "peak media" with over 12 hours of media consumed each day on average....
Jailani: Internet addiction has reached alarming rate Free Malaysia Today (Yesterday) - The deputy minister says a study carried out on 725 Malaysians shows that 89% are addicted to the Internet....
India, Bangladesh relation has reached peak now: Minister The Hindu (Yesterday) - "We want to further develop this friendly and cordial relation for the interest of both the countries," Mr. Nasim told reporters at the Akhaura checkpost here....
FG, French Embassy, AFD sign $60m infrastructure agreement in Imo State Vanguard (2 days ago) - FRENCH Embassy in Nigeria has signed $60 million financial agreement with the Federal Ministry of Finance, through the support of French Development Agency, AFD, to fund the implementation of the...
Canadian study reveals why a family meal is so important Daily Mail Online (2 days ago) - Children who routinely eat their meals together with their family are more likely to experience long-term physical and mental health benefits, a new Canadian study shows....
Kirstjen Nielsen, DHS secretary: Border wall more than a physical barrier Washington Times (2 days ago) - Department of Homeland Security Secretary Kirstjen M. Nielsen said the border wall is more than just a physical barrier. "It's really three components — it's the physical barrier, it's the...
France Gives Climate Study Grants to 5 Colorado Scientists U.S. News (3 days ago) - The French government has lured five Colorado scientists to do climate change research in France for the rest of President Donald Trump's term....
Frugal or cheap? New study: Canadians Scrooge-like when it comes to charity Toronto Sun (3 days ago) - Bah, humbug! There's an adage that Canadians are the nicest people in the world. But charitable? That's another story, according to a new Fraser Institute study. Believe it or not,...
Men's upper body strength accounts for 70% attractiveness to women – study The Sun News (3 days ago) - Men's upper body strength accounts for 70 per cent of attractiveness to women, a new study published by Griffith University, in Australia, has shown. According to the study, wide shoulders,...
"Strong men are the hottest" – Is this the most obvious study ever? All4Women (3 days ago) - Heterosexual male gym rats, rejoice! Women, when asked in a study to judge photos of men's bodies, rated the strongest men as the most attractive... The post "Strong men are...