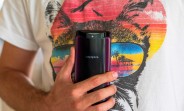 Oppo promised and delivered a new GPU boost technology for its smartphones. At an event in Shanghai, China, the company introduced Hyper Boost with 100 times faster adjustment of the hardware frequency.

The manufacturer worked with Tencent, Netease, Unreal, Unity, and others to implement the optimization to the Top 100 mobile games through component acceleration.

In a press release, Oppo said PUBG and Honor of Kings are among the first 11 games that will receive instant performance boost through "polymorphic network acceleration technology" and "intelligent distribution of traffic......
By: GSMArena.com - Friday, 12 October
Related Posts
Older News
Oppo R15x is official, is essentially a K1 with 128 GB storage GSMArena.com (Today) - Oppo K1 arrived two weeks ago with a waterdrop notch. The phone kept appearing under a different model name on Geekbench and finally arrived today at the company website as...
Oppo is the latest to be caught cheating on phone benchmarks Engadget (Yesterday) - You can add another big name to the list of phone makers found cheating on benchmarks. UL Benchmarks has delisted Oppo's Find X and F7 phones from its 3DMark charts...
Samsung is reportedly working on a Snapdragon 845-powered gaming smartphone Firstpost (Yesterday) - The gaming smartphone is rumoured to be powered by Snapdragon 845, with 8 GB RAM + 128 GB storage.The post Samsung is reportedly working on a Snapdragon 845-powered gaming smartphone...
T-Mobile G1: The first Android phone never looked so good - CNET CNET (3 days ago) - The innocence! The horror! Seeing the ten-year-old T-Mobile G1 (aka HTC Dream) now is like staring at your embarrassing yearbook photos....
Oppo is the latest company to get caught cheating on benchmark tests The Verge (3 days ago) - Last month, Huawei was caught cheating on benchmark tests for several of its phones, including the P20 and P20 Pro. But it wasn't the only phone company that was trying...
Intel 9th-gen Core i9-9900K Review: The 'best gaming CPU' is also the fastest PCWorld Reviews (3 days ago) - When Intel declared its new 9th gen Core i9-9900K the "world's best gaming CPU," it lied. After poking and prodding the CPU, we can say without a doubt that it...
Oppo O-Free review: the $100 AirPods for Android The Verge (3 days ago) - There are a lot of wireless earbuds on the market at this point, but none have quite matched the experience of Apple's AirPods yet. The combination of well-designed case, excellent...
New mysterious Oppo shines on TENAA GSMArena.com (3 days ago) - Oppo keeps expanding its portfolio with new phone. The cheap-to-midrange field is getting extremely crowded after the arrival of Oppo F9, later relaunched as Oppo A7x in China, the appearance...
EUV And Expanding The SSD Ecosystem Forbes (3 days ago) - Samsung is making major advances in semiconductor technology that could enable ever more dense memory devices, both DRAM and NAND flash, with high stack height and finer features needed to...