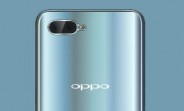 A mysterious trio of smartphones appeared last month on TENAA and looked a lot like a toned-down version of the existing Oppo R17. However, a few weeks back Oppo teased an upcoming new series of smartphones, which threw us off guard. Luckily, an unexpected store listing is here to clear the air with full specs, prices and even the name of the handset - R15x.

It appears that Oppo still hasn't dropped the R15-lineup, although the R17 and the R17 Pro are already out. The device is listed on an online...
By: GSMArena.com - Friday, 12 October
Related Posts
Older News
Cardi B's new single leaks online Music-News.com (Yesterday) - The rapper has denied she is releasing a Nicki Minaj diss track....
How non-sale prices of electrical goods fluctuate, including a TV that could cost £629 or £328 Daily Mail Online (Yesterday) - Experts at Which? are warning shoppers to beware after they found that the cost of the same vacuum cleaner, fridge, TV or printer can vary by hundreds of pounds at...
Leaked OnePlus 6T specs confirm bigger battery The Verge (Yesterday) - We already know quite a bit about the OnePlus 6T. It's launching on October 29th with an event in New York City that was moved up a day to avoid...
Target CE0 Reveals How Retailer Will Siphon Millions In Sears, Toys 'R' Us Market Share This Holiday Forbes (Yesterday) - Target CEO Brian Cornell expects that amid the impending exodus of Sears and Kmart stores from the mall, "we'll even more of a destination in those markets" this holiday season,...
Oppo R15X launched with specs similar to the Oppo K1 but adds more storage Firstpost (Yesterday) - The Oppo R15X gets an under-display fingerprint scanner and also features a waterdrop notch.The post Oppo R15X launched with specs similar to the Oppo K1 but adds more storage appeared...
Retailer accidentally lists OnePlus 6T, confirms microSD slot, €10 price hike GSMArena.com (Yesterday) - The OnePlus 6T event was pulled forward, but only by a day. Still, German retailer Otto mixed up its calendar and published the page for the phone, price and specs...
British Retailer Calls Time On The DVD Player Forbes (Yesterday) - Upmarket UK department store, John Lewis, has called time on sales of DVD players and will no longer be selling the devices once current inventory is exhausted. The retailer blames...
Sure, you remember Sears fondly, but why aren't you shopping there? USA TODAY (Yesterday) - Social media is full of nostalgia for Sears, but what many of the online eulogists forget is that they haven't patronized the retailer in years.       ...
B.C. government bud is online — but dude, where's my booze? Global News (2 days ago) - The B.C. Liquor Distribution Branch told Global News it 'was exploring online liquor sales when the NDP asked us to be the wholesaler and public retailer for cannabis.'...
Oppo Find X Lamborghini Edition review GSMArena.com (2 days ago) - Few brands say exclusivity, high performance, and stunning looks quite like Italian car maker Lamborghini. So when you hear of the Oppo Find X Lamborghini Edition, you know it's no...