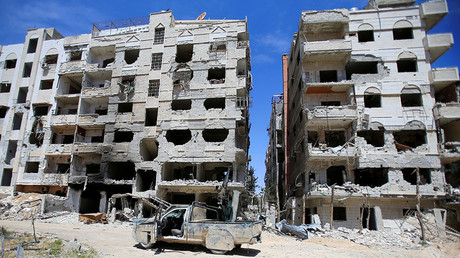 Veteran UK reporter Robert Fisk went to Syria's Douma and heard that residents shown in notorious "gas attack footage" actually suffered from oxygen loss due to hiding in trash-filled shelters, and not from chemicals.

Read Full Article at RT.com...
By: RT - Daily news - 3 days ago
Related Posts
In the last 2 hours
A lot of passengers in the Southwest flight emergency incorrectly wore the dropped oxygen masks National Post (Today) - The photos show panicked passengers with the yellow oxygen masks around their mouths but not their noses...
Older News
RT visits hospital seen in Douma 'chemical attack' video, talks to boy from footage (VIDEO) RT - Daily news (Today) - RT Arabic has traveled to the Douma hospital shown in footage of the aftermath of the alleged chemical weapons attack. The crew talked to a boy featured in the video,...
In The Seventh Year Of The Syrian Civil War, Is There Any Hope For Syria? Forbes (Today) - In early April 2018, reports of President Assad allegedly having used chemical weapons against civilians in Syria circulated in various media sources. It was reported that more than 85 people...
'Red tape,' not Russia, preventing OPCW inspectors entering Douma – Labour MP Thornberry RT - Daily news (Today) - Shadow Foreign Secretary Emily Thornberry says that "red tape" and concerns over safety have stopped OPCW inspectors carrying out their investigation into the alleged chemical weapons attack in Douma, Syria....
UK Envoy: Inspectors Not Allowed Into Douma USA TODAY (Today) - The British Ambassador to the United Nations says Russia and Syria are not living up to their promise to allow UN inspectors to visit Douma, outside Damascus, the site of...
UK envoy: Russia and Syria must let inspectors visit Douma Miami Herald (Yesterday) - Britain's U.N. ambassador says the Russians and Syrians must uphold their promises to let chemical weapons inspectors visit the site of a suspected poison gas attack in the Damascus suburb...
Syria retains limited capability for chemical attack – Pentagon Firstpost (Yesterday) - WASHINGTON (Reuters) - The Pentagon said on Thursday that while there were no signs the Syrian government was preparing to launch a chemical weapons attack, President Bashar al-Assad still retained...
Many passengers wore oxygen masks wrong during emergency landing CNN (Yesterday) - Should you ever find yourself flying in a crippled airliner with an open window at 30,000 feet, knowing how to operate your oxygen mask could be vital....
State Dept.: Syria, Russia Keeping Inspectors Out USA TODAY (Yesterday) - The State Department says it believes Syria and Russia are working together to keep the Organisation for the Prohibition of Chemical Weapons team out of Douma, while they get rid...
Russia, Syria Trying to 'Sanitize' Chemical Attack Site: U.S. State Department U.S. News (Yesterday) - WASHINGTON (Reuters) - The United States has credible information that Russia and Syria are trying to "sanitize" the site of a suspected chemical......