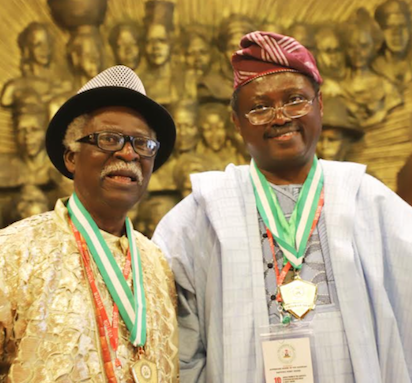 2017 Nigerian National Order of Merit investiture at the State House, Abuja.

The post Photos: 2017 Nigerian National Order of Merit investiture ceremony appeared first on Vanguard News....
By: Vanguard - Thursday, 7 December
Related Posts
New In Last 45 Minutes
KNUST (NUGS) Honours Actor Bernard Nyarko Modern Ghana (Today) - Actor Bishop Bernard Nyarko, one of the most talented Kumawood actors has been awarded for his immense contribution and support towards the growth of KNUST rsquo;s National Union of Ghana...
Older News
We have surpass our revenue target for 2017 – M. D, NPA Vanguard (Today) - THE Managing Director of the Nigerian Ports Authority, NPA, Ms Hadeza Bala Usman, has said that the agency has surpassed its 2017 revenue target saying that "over N118billion was raked...
Black Princesses Among Three Finalists For CAF Women's National Team Of The Year Modern Ghana (Today) - The Black Princesses are still in contention for the Women 39;s National Team of the Year at the CAF awards gala. Yusif Basigi 39;s side remained in the race after...
Apapa roads turn death-traps as tanker drivers overwhelm govt The Sun News (Yesterday) - By Isaac Anumihe On November 23, 2017, a traffic enforcement  team comprising the  Federal Road Safety Corps (FRSC), Nigerian Navy, Nigerian Police, Nigerian Civil Defence Corps and Lagos State Traffic...
We Produced 15m Metric Tonnes Of Rice This Year – Nigerian Farmers Leadership Newspapers (Yesterday) - The Rice Farmers Association of Nigeria (RIFAN) yesterday said it produced 15 million metric tonnes of rice this year. RIFAN deputy national vice president, Segun Atho, said that the association's...
Military budgets N38bn for weapons in 2018 The Punch (Yesterday) - Olaleye Aluko, Abuja The Nigerian military has budgeted about N38bn for the purchase of ammunition, fighter jets and helicopters in 2018 as part of its efforts to tackle the Boko...
Vandals steal 33,000-litre fuel from guarded NNPC pipelines The Punch (Yesterday) - Afeez Hanafi Operatives of the Nigerian Navy Ship Beecroft in Apapa, Lagos, have raided villages on Atlas Cove Island of the state, recovering 1,330 jerrycans (about 33,250 litres) of fuel...
Nigerian economic growth, not yet cheering news The Punch (Yesterday) - Oludare Mayowa The recent announcement of 1.4 per cent growth in the Nigerian economy by the National Bureau of Statistics was received in the government circles as a major leap...
Photos: NPP Extraordinary National Delegates Conference Modern Ghana (Yesterday) - The governing New Patriotic Party (NPP), today , held an Extraordinary National Delegates Conference to consider various proposed amendments to the party 39;s Constitution. The event, held in Kumasi was...
Falcons end 2017 as Africa's best women team Vanguard (Yesterday) - Football governing body, FIFA, has released its end-of-year international ranking of Women's National Teams, with the Super Falcons of Nigerian the top ranked team in Africa.The post Falcons end 2017...