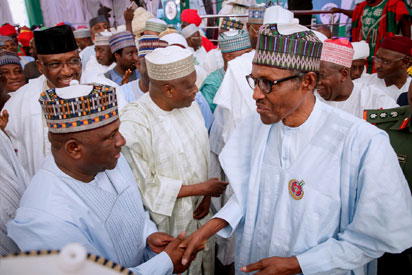 President Buhari with Business Mogul and Elders Stateman Alhaji Aminu Dantata, Chairman Senate Committee on Works Senator Kabiru Gaya and Governor of Jigawa State H.E. Abubakar Badaru as he holds Town Hall Meeting with Community Leaders in Kano State on Thursday. 

The post Photos: Buhari holds town hall meeting in Kano appeared first on Vanguard News....
By: Vanguard - Thursday, 7 December
Related Posts
In the last 2 hours
AGF Felicitates With Buhari On His 75th Birthday Osun Defender (Today) - By Nofisat Adeoye A socio-political group, Asiwaju Grassroot Foundation, AGF, has congratulated President Muhammadu Buhari as he turns 75. The Group described Buhari as a national icon and a global...
Older News
APGA felicitates with Buhari @75 Vanguard (Today) -  The All Progressive Grand Alliance (APGA) on Monday congratulated President Muhammadu Buhari on his 75th birth anniversary, urging him to sustain his determination to transform the country.The post APGA felicitates with...
Call for Buhari's resignation: Age is an asset, Boroffice tells Fayose The Punch (Today) - The Chairman, Senate Committee on Science and Technology, Prof Robert Boroffice has disagreed with Governor Ayodele Fayose of Ekiti over his suggestion that President Muhammadu Buhari, should retire from politics...
Buhari's Blockbuster North-South Gas Highway Leadership Newspapers (Yesterday) - By GARBA SHEHU After making a slow start, the Nigerian energy landscape is set for a major change with the award of a USD 2,809,522,548.36 gas pipeline contract approved by...
Buhari 'll record landslide in South-East in 2019 — Okorocha Vanguard (Yesterday) - IMO State Governor, Rochas Okorocha, yesterday,  described President Mohammadu Buhari as a man, whom God sent to prevent Nigeria from collapsing, boasting that Buhari will win again in the South-East...
Ekweremadu salutes President Buhari at 75 Vanguard (Yesterday) - DEPUTY Senate President, Senator Ike Ekweremadu, yesterday congratulated President Muhammadu Buhari on his 75th birthday.The post Ekweremadu salutes President Buhari at 75 appeared first on Vanguard News....
3m bottles of codeine-containing syrup consumed daily in Kano, Jigwa Vanguard (Yesterday) - Unless there is urgent intervention, experts have warned that Nigeria may be building a nation of   drug addicts. This is not unconnected with latest reports which show that 3 million...
SERAP to Buhari: Explain decision to spend $1bn on Boko Haram war The Sun News (Yesterday) - By Emma Njoku Socio-Economic Rights and Accountability Project (SERAP) has urged President Muhammadu Buhari to urgently explain why he decided to withdraw $1 billion from the Excess Crude Account to...
NOC AGM holds tomorrow Vanguard (Yesterday) - The Annual General Meeting of the Nigeria Olympic Committee (NOC) holds tomorrow In Lagos.The post NOC AGM holds tomorrow appeared first on Vanguard News....
APC Youth caucus felicitates with Buhari @ 75 Vanguard (Yesterday) - Mr Haruna Okatahi, Publicity Secretary, All Progressives Congress (APC) National Youth Caucus, has felicitated with President Muhammadu Buhari, as he celebrates his 75th birthday on Sunday.The post APC Youth caucus...