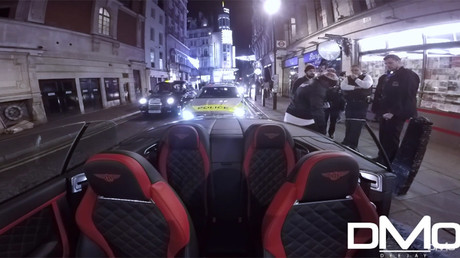 A London police officer who was recorded telling a popular DJ that black people are statistically more likely to commit crime has been cleared of intentional racism, following an investigation by the city's Independent Police Complaints Commission (IPCC). Read Full Article at RT.com...
By: RT - Daily news - Thursday, 7 December
Related Posts
Older News
Man armed with gun at Black's Beach bitten by police dog, arrested San Diego News (Today) - A San Diego police dog helped officers arrest a man armed with a gun at Black's Beach Saturday. Police Sgt. Edward Zwibel said the man at least once aimed the...
EDITORIAL: Police are solving fewer murders. Why? Toronto Sun (Today) - Buried in decades of statistics showing a steady decline in the crime and violent crime rates in Toronto is the alarming fact that fewer and fewer homicides are being solved....
Police: Man Injured in Officer-Involved Shooting in Virginia U.S. News (Today) - Police in Newport News, Virginia, say a man faces life threatening injuries after being shot by police....
Minnesota Governor Defends Police Shooting Investigators U.S. News (Today) - Minnesota Gov. Mark Dayton defended the state agency that investigates police shootings after a prosecutor criticized the investigation into the death of an Australian woman who was killed by an...
Police: man injured in officer-involved shooting Washington Times (Today) - NEWPORT NEWS, Va. (AP) - Newport News Police say a man faces life-threatening injuries after being shot by a police officer. Police said the 33-year-old man, who has not been...
Minot law enforcement agencies see increase in crime Washington Times (Today) - MINOT, N.D. (AP) - Law enforcement agencies in Minot say they are struggling to combat crime even after the slowdown in area oil activity. Minot Police Chief Jason Olsen said...
Police: robbery suspect dies in officer-involved shooting Washington Times (Today) - SALEM, Va. (AP) - Virginia State Police say they are investigating a fatal officer-involved shooting at a shopping center in Rockbridge County. Police said deputies from the Rockbridge County Sheriff's...
Police take dog into custody The Hindu (Today) - A dog was taken into police custody after two persons claiming to be its owners failed to settle the ownership dispute, the police said here.A resident of the Civil Lines...
GUEST COLUMN: On the racism of low expectations Toronto Sun (Yesterday) - BY RITA SMITH Special to the Toronto Sun Mature human beings have the freedom and the responsibility to think and act independently. It's not a "maybe" proposition, as in: "If...
FBI agent, police officer involved in man's fatal shooting Washington Times (Yesterday) - YONKERS, N.Y. (AP) - An FBI agent and a police officer have been involved in the fatal shooting of a man in New York. The FBI says the man was...