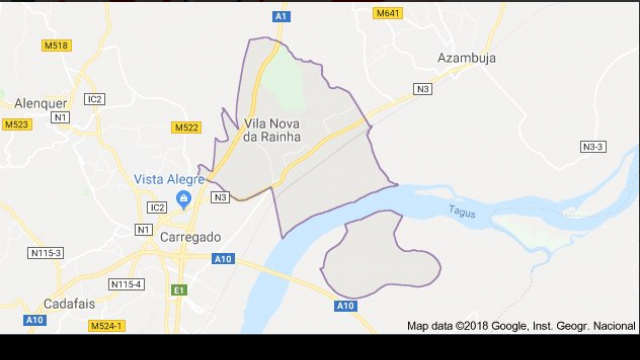 At least eight people have been killed and dozens injured in a fire and stampede in a local leisure association in the town of Vila Nova da Rainha in northern Portugal on Saturday night, officials said.

Mayor Jose Antonio de Jesus said in televised remarks that over 60 people had been taking part or watching a card tournament in the two-storey popular gathering place of the town 260 km northeast of Lisbon when the fire erupted.

Portugal: Eight people lost their lives after heater exploded and started fire at packed premises of...
By: DNA India - Saturday, 13 January
Related Posts
Older News
Hundreds attend funeral for boy killed in Nova Scotia house fire The Globe and Mail (Today) - Mason Grant, who was one of four children killed in the fire, was remembered as 'an old, wise soul' who loved outdoor activities...
Greece: Protest of squatted building arson brings tear gas Miami Herald (Today) - Greek riot police have fired tear gas and stun grenades during clashes with activists protesting an arson fire at a building used by anarchist squatters in the northern city of...
Man, 2 dogs killed in Elgin mobile home fire Chicago Tribune (Today) - A man and two dogs were killed Sunday night in an Elgin mobile home fire triggered by heat tape used to prevent pipes from freezing, fire officials said. The man,...
Dad, 2 young children die in house fire; mom, infant escape Washington Times (Today) - BRIDGETON, N.J. (AP) - A man and two of his young children were killed when a fast-moving fire roared through a New Jersey home, but authorities say five other people...
Bandra fire: infant dies, girl critical The Hindu (Today) - Blaze breaks out at pumping room; case registered against owner of Shoeb Manzil and kids' parents...
Landlord's Appeal in Fatal Blaze Cites Faulty Fire Codes U.S. News (Today) - A landlord sentenced to jail time following a fire that killed six people has filed an appeal that cites a vague fire safety code as a factor in the blaze....
Four ambulances called to Kansas City building fire The Kansas City Star (Today) - Ambulances have been called for four people at the scene of a fire in Kansas City. The fire was reported about 12:45 p.m. Monday in the 1600 block of Drury...
Surfer takes on giant wave off the coast of Portugal Daily Mail Online (Today) - The Nazaré coast of Portugal is home to some of the world's biggest waves - and fearless Sebastian Steudtner caught one perfectly, giving a masterclass in big wave surfing....
LIVE: Funeral held for boy killed in N.S. house fire CTV News (Today) - The funeral for one of the four children who died in a southern Nova Scotia house fire is being held....
News24.com | AS IT HAPPENED: Police arrest protesters, fire tear gas in Krugersdorp clashes News24 (Today) - Several building were burnt and shops were looted in the CBD during a community-led shutdown over crime in the area....