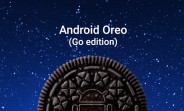 Qualcomm has announced support for Google's new Android Oreo (Go Edition) platform. The company will be working alongside Google to improve the experience on these devices, many of which will have 1GB or less RAM.

Qualcomm didn't really say anything about what it is doing in this partnership and merely listed off what Google has done with Android Oreo (Go Edition). Which, as we learned yesterday, involves having a streamlined version of the OS designed for low-end hardware with low RAM and storage space, lightweight version of Google apps, and a...
By: GSMArena.com - Wednesday, 6 December
Related Posts
Older News
Tennessee Republican Sen. Bob Corker Announces Support for Tax Bill, Boost for GOP U.S. News (Today) - Tennessee Republican Sen. Bob Corker announces support for tax bill, boost for GOP....
OnePlus 5 Oreo beta 2 begins rolling GSMArena.com (Today) - OnePlus 5 users enrolled in the company's Oreo beta program, have started getting a new build. The OxygenOS Open Beta 2 update brings along several changes related to launcher, camera,...
Xbox party chat is coming to Android and iOS The Verge (Today) - Microsoft has started testing Xbox party chat in the company's Xbox mobile apps for iOS and Android. The beta Xbox app for Android is available immediately with the party chat...
BlackBerry Priv support ends GSMArena.com (Today) - BlackBerry has announced that it's dropping Priv from the list of Android devices currently enjoying support for monthly security updates from the company. The phone was launched back in November...
'Destiny 2' Announces 'The Dawning' For 2107, Here's What's Coming Forbes (Yesterday) - Bungie just announces The Dawning in 'Destiny 2,' a now-annual winter-themed event....
Xiaomi Mi A1 gets new Special Edition Red variant GSMArena.com (Yesterday) - Xiaomi has launched a new variant for its Mi A1 Android One smartphone. Dubbed Special Edition Red, the variant has been launched in Indonesia, where it carries a price tag...
Google finally gives more Android phones their own Assistant Mashable (Yesterday) - Google is rolling out its personal AI Google Assistant to users with phones running older versions of its Android OS, finally giving more people the voice-controlled smart features that are...
5 Reasons Why Android Devices Are Still Better Than iPhone Modern Ghana (Yesterday) - There has always been a comparison between Android devices and Apple rsquo;s iPhone. Although, many people rate iPhone above Android phones, there are certain things Android phones do far better...
Oreo Beta 4 for Samsung Galaxy S8/S8+ now seeding GSMArena.com (Yesterday) - As expected, Samsung has started rolling out Oreo Beta 4 build to eligible Galaxy S8/S8+ units. The update weighs in at around 850MB, and arrives as software version ZQL8 for...
Honor 9 Youth Edition set to be unveiled next week GSMArena.com (Yesterday) - Huawei's sub-brand Honor has confirmed that it will be unveiling a new smartphone next week. The company took to its official Weibo account to announce that Honor 9 Youth Edition...