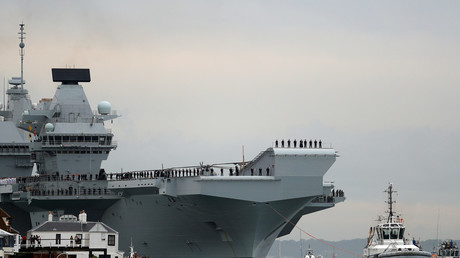 The Queen will watch her £3.1 billion ($4.1 billion) namesake ship be unveiled today as the Royal Navy raises the White Ensign over its biggest and most expensive vessel. The British monarch is attending the commissioning of a new aircraft carrier, HMS 'Queen Elizabeth,' sister ship of the HMS 'Prince of Wales.' Read Full Article at RT.com...
By: RT - Daily news - Thursday, 7 December
Related Posts
Older News
Death of British diplomat investigated Sky News (Today) - The sudden death of a British embassy worker in Lebanon is being investigated by police, government sources have said....
'Queen of Clean' shares her top cleaning tips Daily Mail Online (Today) - 'Queen of Clean' Lynsey, 38, from Peterborough, told FEMAIL that the key to staying on top of chores during the festive season is 'being organised' and having a few simple...
Scamming sailor kicked out Navy and gets year in prison Daily Mail Online (Today) - Former Royal Navy Leading Hand John Bayne, 28, was sentenced to one year in prison at Portsmouth Magistrates' Court. Bayne had conned football fans out of almost £7,000 in ticket...
Buhari Celebrates Birthday Without Military Parade Osun Defender (Today) - Serving President, Muhammadu Buhari clocks 75 today, Sunday. It was learnt that the President cancelled the usual military parade by the Presidential Guards Brigade on Saturday to spend quality time...
Argentina dismisses navy chief amid submarine investigation Miami Herald (Yesterday) - Argentina has dismissed the head of its navy as part of the investigation into the disappearance of a submarine with 44 crew members aboard last month. State news agency Telam...
MASSOB berates British High Commissioner over Biafra The Sun News (Yesterday) - The Movement for the Actualization of the Sovereign State Of Biafra (MASSOB) under the leadership of Comrade Uchenna Madu has berated the British High commissioner, Mr. Paul Arkwright, for allegedly kicking against...
Argentina navy chief sacked over sub tragedy Free Malaysia Today (Yesterday) - Military sources quoted by local media say President Mauricio Macri is willing to retire most of the naval leadership....
MASSOB blasts British envoy, Arkwright for kicking against Biafra The Sun News (Yesterday) -     From Jeff Amechi Agbodo, Onitsha   The Movement for the Actualization of the Sovereign State of Biafra (MASSOB,) led by Comrade Uchenna Madu has lambasted the British High...
Son says Mohiuddin refused to desert Hasina in exchange for freedom during military-backed govt bdnews24.com (Yesterday) - Former Chittagong mayor ABM Mohiuddin Chowdhury refused an offer of release from jail to see his daughter, who was undergoing treatment for cancer abroad during the military-controlled caretaker government's regime....
Navy taking USS Little Rock combat ship into its fleet Miami Herald (Yesterday) - The U.S. Navy is set to formally accept a new combat ship into its fleet. In Buffalo, thousands of people were invited to Saturday's commissioning of the USS Little Rock....