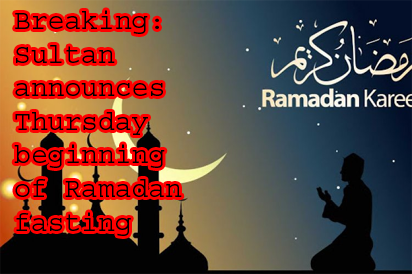 President Muhammadu Buhari has challenged Muslim ummah to use the opportunity offers by Ramadan to increase their love for humanity, acts of charity, kindness, generosity and gratitude.

The post Ramadan: Buhari greets Muslims, urges them to show more love for humanity appeared first on Vanguard News....
By: Vanguard - 3 days ago
Related Posts
Older News
Ramadan 2018: Long term Irish resident says how Dubai changed her perceptions Khaleej Times (Today) - "This is my 19 Ramadan. My first one fell over Christmas 2000 and I remember it so vividly."...
Buhari to Lead Democracy Solidarity Walk on May 29 Osun Defender (Today) - The National Democracy Stakeholders Group (NSDG), a pro-democracy and non-profit organisation, says President Muhammadu Buhari will lead the 2018 edition of Democracy Solidarity Walk. NSDG' Convener, Mr Kletsaint Akor, who...
Memories of the month of Ramadan Modern Ghana (Today) - When I was young, my friends and I used to be full of enthusiasm whenever the month of Ramadan approached. It was not actually because of the understood importance of...
PDP to Buhari: Your subsidy regime is fraudulent Vanguard (Today) - The Peoples Democratic Party (PDP) has accused President Muhammadu Buhari of running a corrupt subsidy regime since he took over power in 2015.The post PDP to Buhari: Your subsidy regime...
Gas scarcity 'worsens' for Dhaka households during Ramadan bdnews24.com (Today) - Residents in most areas of Dhaka city have complained of a decrease in the gas supply for domestic use at home during Ramadan....
Who can stop Buhari's second term? Vanguard (Yesterday) - If you say the Buhari / APC led Federal Government has brought untold hardship, excruciating pains and debilitating poverty on Nigerians and have nothing good to offer the ordinary people...
Drop your second-term bid, Ezeife, Yakasai, ex-minister tell Buhari The Punch (Yesterday) - Leke Baiyewu Some elder statesmen in the country have urged President Muhammadu Buhari not to seek a second term. The leaders from different parts of the country gave various reasons...
Rules And Regulations Of Ramadan Should Be Observed Modern Ghana (Yesterday) - Muslims have been urged to stay away from all forms of social vices and also control their utterances as they observe the 2018 Ramada period. Islamic worshippers, particularly the youth,...
President Buhari Congratulates Falana @ 60 Osun Defender (Yesterday) - President Muhammadu Buhari on Saturday congratulated Mr Femi Falana, SAN, an erudite lawyer and human rights activist,on his 60th birthday. The President in a statement by his Special Adviser on...
U.S. bishop's fiery 'love' speech highlight of royal wedding CBC.ca (Yesterday) - In contrast to the muted style of sermon the Royal Family is used to, the head of the Episcopal Church in the U.S., stole the show during Prince Harry and...