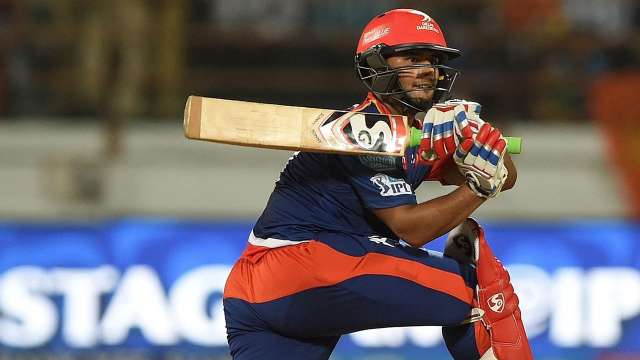 Delhi' s wicketkeeper-batsman Rishabh Pant smashed an unbeaten 116 off just 38 deliveries here at the Feroz Shah Kotla Ground on Sunday against Himachal in a North Zone T20 League fixture, leading his team to a thumping 10-wicket victory.

Pant who reached the triple figure mark in just 32 balls, became the second-fastest batsman in T20 history to score a century. His knock included 12 sixes and eight fours.

The record for the fastest century still lies with Windies legend Chris Gayle who scored a 100 off 30 deliveries for Royal Challengers...
By: DNA India - Sunday, 14 January
Related Posts
Older News
IFM names Union Bank fastest growing retail bank The Sun News (Yesterday) - Union Bank, one of Nigeria's longest serving banking institutions, has been named 'The Fastest Growing Retail Bank, Nigeria, in the 2017 edition of the International Finance Magazine (IFM) Awards. The...
Jack Hale personal best 100m time scuppered by officials' error Canberra Times (2 days ago) - Teen sprint star Jack Hale might have been the fourth-fastest Australian man over 100m in history but for a blunder by West Australian athletics officials....
Nintendo's Switch boosted not only the company, but the entire video game industry Business Insider (3 days ago) - Overall game console sales were up big last year, thanks in large part to the Nintendo Switch, the fastest-selling console in history....
Norwegian breaks record for fastest transatlantic flight Daily Mail Online (3 days ago) - A Boeing 787-9 Dreamliner operated by Norwegian has broken brthe record for the fastest transatlantic flight by a conventional airliner....
New Orleans comes alive in Nathaniel Rich's 'King Zeno' Los Angeles Times (3 days ago) - 'What do we want out of a historical novel? History, sure. But history is complicated, and American novelists have handled it in different ways over the last century. In his...
How B2B Companies Unlock Blockchain Without The Development Headaches Forbes (3 days ago) - Considering the countless inefficiencies and security risks in business today, blockchain could usher in the fastest adoption of a new technology in the history of the Internet....
Land Rover unveils most powerful, fastest Defender in 70 years Vanguard (4 days ago) - LAND Rover has announc-ed a limited-edition high-performance version of the iconic Defender, with up to 150 V8-powered and re-engineered to celebrate the Land Rover Marque's 70th anniversary in 2018.The post...