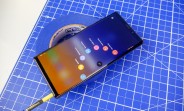 With the Samsung Galaxy Note9 being out now, everyone is looking for the price and availability in their country. We already know about the US, UK and DE availability but what about India?

Samsung is making an effort to retain its strong positions in the Indian market so it has already made the Note9 available for pre-order with some sweet deals. Those who reserve a unit can get the Samsung Gear Sport smartwatch for INR 4,999 ($72), instead of the usual INR 22,990 ($333).

But if you are not in the market...
By: GSMArena.com - Friday, 10 August
Related Posts