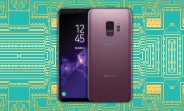 The Samsung Galaxy S9+ (SM-G9650) - the one with a Snapdragon 845 chipset - was spotted by AnTuTu in its database. Surprisingly, this version has 6GB of RAM rather than 4GB like the Exynos 9810 version we saw on Geekbench yesterday.

The rest is a familiar story, starting with an 18:9 screen with resolution defaulting to 1,080 x 2,220px (of course, that's set in software, the hardware will be QHD+). The OS is Android 8.0 Oreo as expected and there is 64GB of built-in storage.

Samsung Galaxy S9+ (Snapdragon 845) specs and...
By: GSMArena.com - Wednesday, 14 February
Related Posts
New In Last Hour
MWC 2018: What smartphones to expect from Samsung, Nokia, Xiaomi and more DNA India (Today) - One of the biggest mobile events of the year, Mobile World Congress, will begin on February 26 and will go on till March 1. Major companies including Samsung, Nokia and...
Older News
Forget About New Galaxy S9 Secrets This Weekend, Samsung's Launch Is Not For You Forbes (Yesterday) - We all know what Samsung will show on stage when it launches the Galaxy S9 this weekend. But that's fine, the launch is not for us. It's for everyone else....
Samsung Galaxy Tab S4 caught in another benchmark, 16:10 screen confirmed GSMArena.com (Yesterday) - It's been a while since Samsung launched a high-end tablet, but the wait could be almost over. A couple of days ago an upcoming slate from the Korean company was...
Qualcomm shares details on its vision for the near-future of mobile VR TechCrunch (Yesterday) -  Qualcomm is ready to show off more about what its Snapdragon 845 system architecture can do for the future of VR. Even as headsets based on the Snapdragon 835 reference...
Samsung Galaxy S9 duo to launch on March 16, 256GB version incoming GSMArena.com (Yesterday) - The Samsung Galaxy S9 and Galaxy S9+ will be unveiled this Sunday and they may be on store shelves less than a month later. Korean publication The Investor cites sources...
Romain Alessandrini has won over Galaxy with his play, now eyes more wins Los Angeles Times (Yesterday) - After the best debut season by a midfielder in Galaxy history, no one would have begrudged Romain Alessandrini if he had taken a trip home to France for some relaxation...
Samsung Galaxy S9 stars in premature hands-on photos GSMArena.com (Yesterday) - Tired of cases and 3D renders of the Galaxy S9? Well, the floodgates have opened now and hands-on photos of the actual device were inevitable.The photos show the front of...
T-Mobile, AT&T sign on to sell Windows 10 on Snapdragon PCs The Verge (Yesterday) - T-Mobile and AT&T have added their commitments to sell the new Windows 10 Always Connected PC devices that use Qualcomm's Snapdragon mobile platform when they arrive at some point this...
Qualcomm announces new Snapdragon 845 VR reference headset The Verge (Yesterday) - Qualcomm has revealed a new reference design for a Snapdragon 845 VR headset today. The headset uses the similarly named mobile Snapdragon 845 system architecture that the company announced last...
Qualcomm's Snapdragon 845 streams music to multiple Bluetooth devices Engadget (Yesterday) - Qualcomm's newest flagship platform, the Snapdragon 845, already promises a lot of things to be excited about in terms of its graphics, camera support and AI processing, and now the...