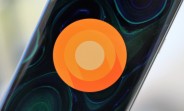 After a long beta testing period, Samsung finally sent out the update to Android 8.0 Oreo for the Galaxy S8 and S8+ last week. Since then the new version has only managed to reach a handful of markets, such as Turkey, Norway, the UAE, India, Belgium, Germany, France, and Poland.

Today a report claims that the company has unexpectedly stopped the rollout. Samsung has pulled the firmware files for the two smartphones from its servers, so you can no longer grab them in any way.

This obviously won't affect you if you've...
By: GSMArena.com - 5 days ago
Related Posts
New In Last 40 minutes
Samsung Galaxy S9 Plus dual cameras detailed in latest leaks Engadget (Today) - At this rate, there might not be much mystery left to the Galaxy S9 when Samsung reveals it on February 25th. WinFuture and Evan Blass have posted a flood of...
New In Last Hour
Everything we think we know about the Samsung Galaxy S9 The Verge (Today) - We're only a few days away from Samsung's official announcement of the Galaxy S9 on February 25th, but as has been the case for the past few years, it seems...
In the last 2 hours
Samsung Galaxy S9+ hits Geekbench with record-breaking scores for Android GSMArena.com (Today) - With less than a week to go until their official announcement on Sunday, a few hours ago almost every single detail regarding Samsung's Galaxy S9 and S9+ was leaked. And...
Older News
Samsung Galaxy S9 and S9 Plus unmasked: Tipster reveals complete spec sheet for the upcoming flagships Firstpost (Today) - Samsung will be accepting pre-orders of the Galaxy S9 and S9 Plus from 25 February onwards, while delivery is set to begin by 8 March, as per the report.The post...
Samsung patents a flying screen that could be used for hovering video Engadget (Today) - Samsung was awarded a patent by the US Patent and Trademark Office last week for what it's calling a "flying display device." The patent, spotted by LetsGoDigital, was filed for...
LastPass now supports Oreo's native Autofill GSMArena.com (Today) - The password managing app LastPass has added support for Android Oreo's Autofill framework, which means it will fill app logins and forms more seamlessly on Android.However Chrome and apps that...
Samsung Galaxy S9 leaks leave little to the imagination GSMArena.com (Today) - The Galaxy S9 duo is just six days away from its official announcement, but press renders and specs just leaked, revealing all the key specs of the Samsung flagship. The...
New Samsung patent reveals a hinge design that could be used to build a folding smartphone with a flexible display Firstpost (Today) - Samsung could be working on a new foldable device that employs the new hinge design along a the touch-enabled flexible display.The post New Samsung patent reveals a hinge design that...
Samsung Galaxy S9 pricing leak suggests a noticeable price hike GSMArena.com (Today) - What goes up... stays up, if we're talking about the price of Samsung flagships. Unconfirmed pricing info suggests that the Galaxy S9 will cost £740 according to one anonymous source...
Deal: free pair of Gear IconX headphones with a Galaxy Note8 or S8 (US only) GSMArena.com (Today) - Samsung's Gear IconX once held a retail price of $200, but we've seen them deeply discounted too - still, you can't beat "free". Samsung US is throwing in a free...