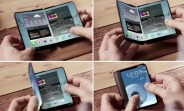 Trade shows offer a perfect opportunity for manufacturers to gauge user opinion on future products. According to some anonymous industry insider info, Samsung took advantage of this practice at CES 2018 to showcase its progress on the eagerly-anticipated foldable mobile displays concept.

There were already quite a few hints at the show floor for major developments on foldable panel tech, which is how we managed to learn about the delay in product delivery estimates to 2019. It appears that was only part of the story, as sources claim they have actually...
By: GSMArena.com - 4 days ago
Related Posts
New In Last Half Hour
Sundre seniors centre could close doors over carbon tax Global News (Today) - A seniors centre in Sundre, Alta., faces the prospect of closing its doors if it can't find a way to make up a utility bill shortfall they say is due...
Older News
alcatel 3C goes official in Italy with 6" 18:9 screen, €129.99 price tag GSMArena.com (Today) - The alcatel 3C got the leaked press render treatment a week ago, and in the meantime it's already been officially announced in Italy. This is the first device to go...
Samsung's dedicated AI chips to outclass Apple and Huawei in the second half of the year GSMArena.com (Today) - Apple and Huawei have already introduced AI-focused chipsets last year, the A11 Bionic and Kirin 970, respectively. Not one to allow itself to be left out of the latest trends...
Latin Artist Maluma Closes Out Dolce & Gabbana Show in Milan with Runway Performance People.com (Today) - Dolce & Gabbana might be an Italian brand but they featured some Latin beats during their Milan Fashion Week display for the Men's Fall Winter 2018/2019 collection on Jan. 13....
Meizu's new M6S phone has a notch on the side The Verge (Today) - Meizu announced the M6S today, the newest addition to its M family of smartphones. It's the first Meizu device to adopt an 18:9 display with narrow bezels on the top...
DIGITAL HEALTH BRIEFING: CES 2018 healthtech roundup — AI digital assistant can help emergency dispatchers — UnitedHealthcare adds new digital features Business Insider (Today) - Digital Health took the spotlight during CES 2018 as tech companies showcased new healthcare devices and services aimed at consumers and precision health...
CABSAT 2018: Canon showcases cutting edge technology for the broadcast and cinema industry Vanguard (Today) - Canon showcased its latest industry-leading innovations at CABSAT 2018, the leading broadcast, satellite and creative media event in the Middle East and Africa region. The post CABSAT 2018: Canon showcases...
Leave The Office And Break Out Of Your Bubble Forbes (Today) - The most effective grantmakers aren't behind closed doors — they're out in their communities, talking to all stakeholders. Learn four benefits you'll reap by hitting the streets you aim to...
Samsung Pay reaches 3M users in India GSMArena.com (Today) - Yesterday we told you that the Galaxy On7 Prime is available from today in India. There was an official launch event where Sandeep Singh Arora, Vice President of Marketing at...
The Samsung Galaxy Note 8 gets a Winter Olympics makeover The Verge (Today) - During the Opening Ceremony of the Olympics, we're used to seeing athletes proudly parade with their phones out, recording videos and taking selfies while the entire world watches. Now Samsung...