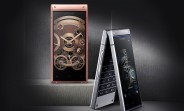 Samsung's China-only flagship flip phone was just announced and it comes with not one, but two AMOLED screens so you can use it without opening it but when unfolded, you will be greeted with the number dial pad and hardware navigation keys.

But not all things are retro as the handset sports some modern and powerful hardware. A Snapdragon 845 does the number crunching with the help of 6GB of RAM and 128GB or 256GB of internal storage, which is also expandable. Both displays are Super AMOLED with conventional 16:9 aspect...
By: GSMArena.com - 5 days ago
Related Posts
New In Last 45 Minutes
Samsung's new phone processor has hardware for on-device AI Engadget (Today) - Samsung has announced its latest system-on-chip (SoC), the Exynos 9 Series 9820 processor, geared specifically towards managing on-device artificial intelligence applications. Unlike its predecessors, this processor contains an AI-accelerator, or...
Older News
Rumored Galaxy X's foldable phone screen specs: 7.3-inch and 4.5-inch - CNET CNET (Today) - Samsung slipped out a few more details about the phone rumored to be called the Galaxy X or Galaxy F....
Samsung's next flagship might come with new AI smarts, 8K video recording Mashable (Today) - This time, it's not a rumor. On Wednesday, Samsung officially unveiled its next-generation system-on-a-chip for smartphones, the Exynos 9820. Highlights of the new chip, which is likely to be built into...
Samsung Faces Criminal Probe For "Intentionally" Overvaluing $2 billion IPO Fortune (Today) - South Korea's Financial Services Commission says Samsung Bioepis was deliberately overvalued ahead of its IPO in 2016...
Samsung's new mobile chip has a dedicated AI unit, supports 8K video recording The Next Web (Today) - Samsung unveiled its newest flagship mobile chip, the Exynos 9820, today. It's the Korean hardware giant's first chip with a dedicated Neural Processing Unit (NPU), and also the first processor...
Huawei to bring quad-camera flagships, foldable phone and 10x optical zoom in 2019 GSMArena.com (Today) - In an interview, Walter Ji, President of Consumer Business Group in Europe for Huawei, teased some of the innovations that the company is planning on bringing next year. They are...
Android 9.0 Pie to soon roll out for the Samsung Galaxy S8, S8 Plus and Note 8 Firstpost (Today) - Wi-Fi Alliance website revealed specifications for the Samsung Galaxy phones running Android 9.0.The post Android 9.0 Pie to soon roll out for the Samsung Galaxy S8, S8 Plus and Note...
Samsung's next flagship processor has an NPU for on-device AI The Verge (Today) - Samsung Electronics is the latest mobile system-on-chip vendor to start using dedicated hardware for on-device machine learning. The Exynos 9 Series 9820, which will undoubtedly be used in the international...
Galaxy S10 Leak 'Confirms' Samsung's Nasty Surprise Forbes (Yesterday) - Samsung's 10th-anniversary Galaxy S10 is making a massive design change which will polarize users......
Galaxy S10 and foldable phone coming soon? video - CNET CNET (Yesterday) - Samsung's newest phones could be officially revealed in the very near future. Pricing info for the foldable Galaxy might have also leaked. Meanwhile, Google tries to make changes in response...