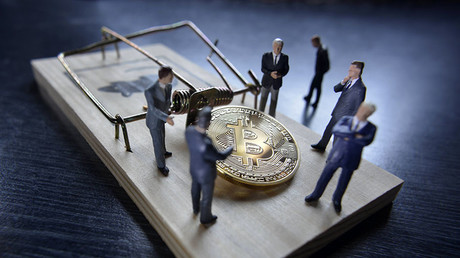 Riyadh has cautioned the public against investing in initial coin offerings (ICOs) due to the high risk, potential losses of capital and alleged fraud in the cryptocurrency market. Read Full Article at RT.com...
By: RT - Daily news - 7 days ago
Related Posts
Older News
A terrorist struck a deal to go home to Saudi Arabia today. He's still at Guantánamo. Miami Herald (Today) - A Saudi man who pleaded guilty to war crimes in exchange for his Feb. 20, 2018 repatriation from Guantánamo was still at the U.S. Navy base on Tuesday, awaiting completion...
Pentagon says 'soon' on 1st Guantanamo transfer under Trump Miami Herald (Today) - The Pentagon will miss a deadline to send a prisoner from Guantanamo home to Saudi Arabia, but an official says the transfer may occur soon. Ahmed Haza al-Darbi pleaded guilty...
Venezuela's national cryptocurrency is officially up for sale Mashable (Today) - The bleeding Venezuelan economy is pinning its hopes on cryptocurrency.On Tuesday, the Venezuelan government launched a pre-sale of "Petro," a new cryptocurrency backed by the country's oil reserves. The aim...
UK Regulator Warns Lawmakers Over Post-Brexit Market Rules U.S. News (Today) - By Huw JonesLONDON (Reuters) - Britain should not force its regulators into trade-offs between market stability and helping London remain a leading......
Venezuela's own oil-backed cryptocurrency is available for presale today The Verge (Today) - Venezuela launched the presale of its own cryptocurrency, the petro, today. There are currently 82 million tokens available, which the government plans to follow with an initial coin offering (ICO)...
Google buys Xively to improve its IoT platform (GOOG) Business Insider (Today) - Google's acquisition of Xively will help the company expand its offerings in the fast-growing IOT market segment....
45 Countries Still Don't Have A U.S. Ambassador [Infographic] Forbes (Today) - In February 2018, Australia, Germany, South Korea, Turkey and Saudi Arabia all appear among the long list of nations without a U.S. ambassador....
Saudi Arabia wants investors back after anti-corruption purge RT - Daily news (Today) - Three months on from Saudi Arabia's crackdown on corruption — which saw hundreds of the country's elite arrested — most detainees have now been released, and Riyadh is trying to...
Venezuela Launches Pre-Sale of Its Controversial Oil-Backed Cryptocurrency Fortune (Today) - The pre-sale and initial offer involve 82.4 million of the virtual coins....
Riyadh to host Saudi Arabia's first fashion week next month bdnews24.com (Today) - Saudi Arabia, a country known for its draconian policies on arts and entertainment, is all set to host its first-ever fashion week next month....