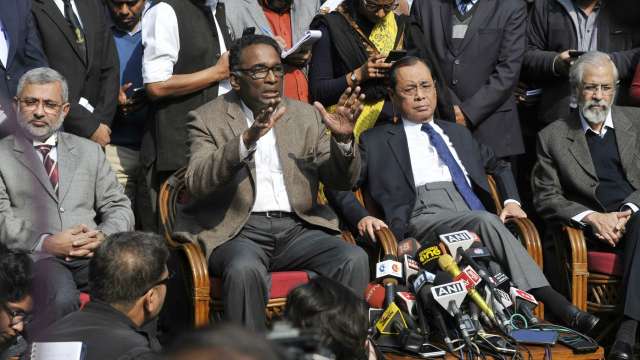 President Ram Nath Kovind should intervene in the issue involving judges of the Supreme Court in case they themselves could not resolve it, DMK working president M K Stalin said today.

"In case, if a stage comes wherein judges could not resolve the issue, President Kovind should intervene and resolve it," he told reporters here. Judges of the top court should hold dialogue and make efforts to resolve the issue to safeguard democracy, he said in response to a question on the issue.

Four senior judges of the apex court yesterday virtually...
By: DNA India - 4 days ago
Related Posts
Older News
Election commissioners' salary set to see over 2-fold hike The Times of India (Today) - The salary of the three election commissioners is set to see an over two-fold hike in the coming weeks. A bill to hike the salary of Supreme Court and high...
Hiccup in Guan Eng's defamation appeal as no written judgment yet Free Malaysia Today (Today) - A fourth letter has been sent today to the secretaries of three Court of Appeal judges to expedite written grounds, says lawyer Americk Sidhu....
Supreme Court 'rebel' judges vs CJI Misra: Little known circular about daily duties points at broken trust in SC Firstpost (Today) - Was this brief, even terse, circular, issued by the Supreme Court registry on 10 November, a harbinger of the calamitous events of Friday, 12 January, 2017, when Justice Jasti Chelameswar...
Recently retired US judge, Milton Shadur, dies at 93 Miami Herald (Yesterday) - One of the nation's longest-serving federal judges has died just three days after relinquishing the last case on his docket. A statement Tuesday from U.S. District Court in Chicago where...
Revolt of the judges The Hindu (Yesterday) -  One cannot agree with the writer's concluding line that a public debate on the issues that have been brought to light by the four dissenting judges should be put to...
Now, Sarawak lawyers challenge appointments of top 2 judges Free Malaysia Today (Yesterday) - Raus Sharif and Zulkefli Ahmad Makinudin cannot remain in office by being made additional judges as such appointments are intended to be temporary and for ad hoc matters, the Advocates...
'Rebellion a conspiracy after CJI order on 1984 riots' The Times of India (Yesterday) - Senior RSS functionary J Nandakumar has termed the recent press conference of the four most senior Supreme Court judges a "perfect political conspiracy" in the wake of the recent order...
Senate votes to take Alabama out of marriage business Washington Times (Yesterday) - MONTGOMERY, Ala. (AP) - The Alabama Senate has approved a bill that would do away with marriage licenses and the requirement for people to go through a wedding ceremony. The...
Thaw begins? CJI, senior judges have a lunch date on Wednesday The Times of India (Yesterday) - Chief Justice of India Dipak Misra took the first step on Tuesday towards resolving the stalemate with four senior judges — Justices J Chelameswar, Ranjan Gogoi, Madan B Lokur and...
Justice Mishra-led bench asks CJI to put Loya's case before 'appropriate bench' - Times of India Google News India (Yesterday) - Times of IndiaJustice Mishra-led bench asks CJI to put Loya's case before 'appropriate bench'Times of IndiaNEW DELHI: In a dramatic twist in the ongoing strife in the Supreme Court, a...