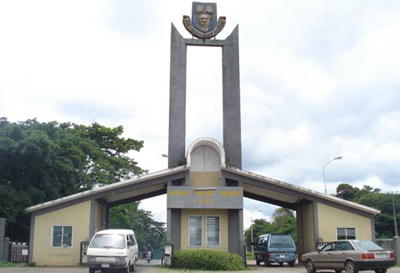 Authorities of St. George's University (SGU), a private international institution in Grenada, West Indies, said it was investigating allegations of sexual misconduct against his Nigerian staff, Dr Francis Fakoya.

The post Sexual harassment: Caribbean University investigates ex- OAU lecturer appeared first on Vanguard News....
By: Vanguard - 7 days ago
Related Posts
New In Last Half Hour
My love life is suffering, but my man understands -Jennifer Ike, actress The Sun News (Today) - While some actresses are calling out different movie producers for exploitation and sexual harassment, budding thespian, Jennifer Ike has said not all of them are bad. "Yes, there is sexual...
African Leaders Tasked To Work Hard To Meet SDGs Targets Modern Ghana (Today) - Dr. Jemima Yakah, Lecturer at the Department of Agricultural Extension Department, University of Ghana, has called on African leaders to adopt proactive strategies to achieve the Sustainable Development Goals. She...
Older News
B.C. motor club hit by sexual-harassment allegations The Globe and Mail (Today) - Former employee says harassment caused a variety of health problems in a complaint filed with the B.C. Human Rights Tribunal...
Sexual harassment: UK, Grenada varsities probe ex-OAU lecturer The Punch (Today) - I never expected any reaction to my sexual harassment story – US-based former student Fakoya failed me, made me drop out of school – Antigua-based doctor Kunle Falayi It has...
Lawmaker in Sexual Harassment Scandal to Run for Re-Election U.S. News (Today) - A second Republican state representative in Kentucky who signed a secret sexual harassment settlement has decided to run for re-election in 2018....
'He Thought He Was The King': Michael Douglas' Accuser Speaks Out About Alleged Sexual Harassment In First TV Interview Perez Hilton (Today) - Michael Douglas' accuser will not be silenced.In her first TV interview, author Susan Braudy opened up about the sexual harassment she allegedly suffered while working with 73-year-old actor in the...
Alexa needs to shut down sexual harassment by shutting down The Next Web (Today) - Amazon has changed the way Alexa responds to suggestive and abusive language aimed at her, in response to outcries following the #MeToo movement against sexual harassment. While her new response...
Hollywood producers announce new sexual harassment guidelines Entertainment Weekly (Today) - In the wake of the Harvey Weinstein controversy and the #MeToo movement, the Producers Guild of American announced extensive new rules Friday to clamp down on sexual harassment in Hollywood.The...
Producers Guild lays out guidelines to combat Hollywood sexual harassment Los Angeles Times (Today) - On the eve of the first glitzy Producers Guild Awards ceremony to be held in the Time's Up era, the Producers Guild of America has unveiled comprehensive anti-sexual harassment guidelines...
Michael Douglas has been accused of sexual harassment by a former employee, days after preemptively denying it Business Insider (Today) - Michael Douglas was accused of sexual harassment by the writer Susan Braudy on Friday, ten days after preemptively denying the allegations in an interview....