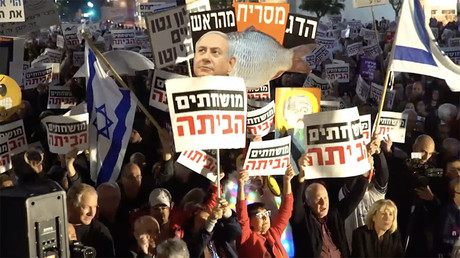 Thousands took to the streets of Tel Aviv to protest corruption following the release of tapes of Benjamin Netanyahu's son discussing "awesome deals" his father allegedly made for his pal's gas mogul dad. Read Full Article at RT.com...
By: RT - Daily news - 7 days ago
Related Posts
New In Last Half Hour
Mike Pence arrives in Israel after tense meeting with King Abdullah of Jordan - The Guardian Google News Australia (Today) - The GuardianMike Pence arrives in Israel after tense meeting with King Abdullah of JordanThe GuardianVice-President Mike Pence began a visit to Israel on Sunday, after a tense meeting in Jordan...
In the last 2 hours
Pence arrives in Israel for delayed visit France 24 (Today) - US Vice President Mike Pence arrived in Israel on Sunday for a visit that will see him warmly welcomed by Israeli leaders but snubbed by the Palestinians, deeply angered by...
Vice President Pence arrives in Israel Reuters (Today) - BEN-GURION AIRPORT, Israel (Reuters) - U.S. Vice President Mike Pence began a visit to Israel on Sunday after being praised as a "great friend" by Prime Minister Benjamin Netanyahu and...
Rally against sexual harassment held in London – video The Guardian (Today) - Crowds gathered in central London on Sunday to protest against sexual harassment and support the Time's Up movement that was launched in the US. Helen Pankhurst, a women's rights activist...
Greeks rally over name row with neighbor Macedonia Deutsche Welle (Today) - Thousands of Greeks have gathered in the northern city of Thessaloniki to march against the Republic of Macedonia's name. Athens and Skopje agreed this month to restart efforts to resolve...
Older News
All the fiercest signs from the Time's Up rally in London Mashable (Today) - A chorus of women and girls of all generations shouted the words "Time's Up" outside Downing Street, the epicentre of UK government.Through the rain, sleet and, snow, thousands gathered next...
The Latest: Thousands rally across Australia for women Miami Herald (Today) - The Latest on women's marches taking place around the world (all times local): 2:35 p.m. Thousands of people have rallied in cities across Australia to support women's rights and show...
Scandal-hit Thai temple helps to stage mass Buddhist event in Myanmar Reuters (Today) - MANDALAY, Myanmar (Reuters) - Thousands of Buddhist monks gathered in Myanmar's second largest city on Sunday for an event partly organized by a scandal-hit Thai temple whose abbot is wanted...
Scuffles in Bucharest as thousands protest corruption (VIDEO) RT - Daily news (Today) - Some 50,000 Romanians braved the sleet and snow on Saturday to protest against corruption in Bucharest. Brief scuffles broke out between the demonstrators and riot police during the march. Read...
Benjamin Netanyahu's India trip: Palestine ties, disagreement on other issues no impediment to better relations with Israel Firstpost (Today) - Though some might accuse Modi of performing a dangerous balancing act by befriending Netanyahu while maintaining ties with Palestinian president Mahmoud Abbas, no one can deny India is one of...