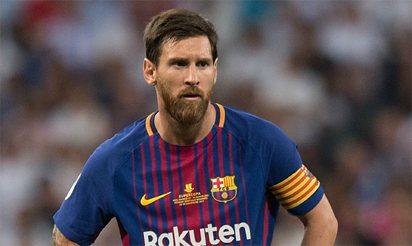 Spanish tax authorities are investigating whether payments from FC Barcelona to Lionel Messi's foundation were used to help the player evade taxes, Spanish daily El Mundo reported on Saturday.

The post Spanish tax authorities scruntinise Messi's foundation appeared first on Vanguard News....
By: Vanguard - Saturday, 13 January
Related Posts
New in last 15 minutes
Chula Vista community-serving fund reaches milestone San Diego News (Today) - The Chula Vista Charitable Foundation's endowment fund has surpassed $500,000, a milestone that leaders say will continue to allow the foundation to support nonprofits that serve the community. Since 2011,...
New In Last Hour
Adeboye lays foundation for A-Ibom Ecumenical Centre Vanguard (Today) - THE General Overseer, Redeemed Christian Church of God, Pastor Enoch Adeboye, has performed the foundation laying ceremony for an  8,500- seater capacity Akwa Ibom State International Worship Centre in Uyo,...
Older News
Cristiano Ronaldo Jokes Lionel Messi Is 'Bad' Before Real Madrid vs. Deportivo Bleacher Report (Today) - Cristiano Ronaldo shared a joke with a pair of mascots at Lionel Messi's expense in the tunnel before Real Madrid's 7-1 thrashing of Deportivo La Coruna on Sunday.According to The...
Girona blazing trail in La Liga to leave them feeling like they belong | Sid Lowe The Guardian (Today) - Pablo Machín and his players have transformed the club and, with it, the town. This never used to be a football place focused on its own team. It is nowIt...
Fugitive Puigdemont in Denmark, No Spanish Warrant Issued U.S. News (Today) - A Spanish judge on Monday refused to ask Danish authorities to arrest ousted Catalan leader Carles Puigdemont, who is in Copenhagen to attend a university debate and meet with some...
Tony Elumelu Foundation wants more applications from entrepreneurs in the north Vanguard (Today) -  Mr Ezekiel Shammah, Manager, Jos Branch of the United Bank for Africa (UBA), has advised entrepreneurs in the north to show more interest in business start-up grants offered by the...
The Latest: Judge refuses intl arrest warrant for Puigdemont The Kansas City Star (Today) - The Latest on fugitive Catalan leader Carles Puigdemont (all times local): 1:45 p.m. A Spanish judge has rejected a petition from the country's prosecutor to ask Danish authorities to arrest...
Cristiano Ronaldo trash talks Lionel Messi with Real Madrid mascots Metro (Today) - 'Messi is bad... the worst!'...
Kalu Foundation establishes small loans for small businesses The Sun News (Today) - The Orji Uzor Kalu Foundation (OUKF), a non-business entity, has established a free loan scheme for small traders and artisans in Abia State. The foundation a few weeks ago distributed...
Isha Foundation's inner engineering classes from Jan. 24 The Hindu (Yesterday) - The Isha Foundation, an international non-profit service organisation founded by Sadhguru, is conducting a seven-day Inner Engineering programme in the city from January 24 to 30 at Sri Rajarajeswari......