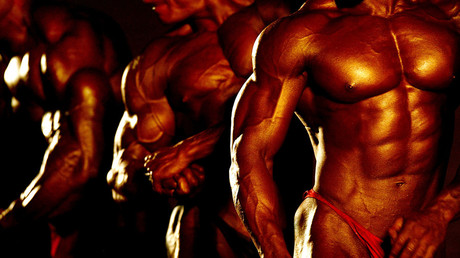 The rise in steroid use by Welsh men looking to beef up their bodies is putting the NHS in the country at risk. Its rise is so prevalent, one analyst has described it as a "time bomb" for future health issues.

Read Full Article at RT.com...
By: RT - Daily news - Thursday, 14 June
Related Posts
Older News
Too often we find our loved ones have been victims of financial abuse Canberra Times (Yesterday) - Last Friday was World Elder Abuse Day. Elder abuse is not just physical and mental abuse but also financial abuse....
Twitter 'smytes' customers TechCrunch (Yesterday) - Twitter today announced it was acquiring the "trust and safety as a service" startup Smyte to help it better address issues related to online abuse, harassment, spam, and security on its platform....
Ambode promises to tackle drug abuse The Punch (Yesterday) - Sesan Olufowobi The Lagos State Governor, Akinwunmi Ambode, on Thursday reiterated his administration's commitment to fight drug abuse in the state. The governor stated this at the inauguration of the...
Terror conviction for making bomb threats to avoid exam at Concordia Montreal Gazette (Yesterday) - "I'm sorry for what happened," Hisham Saadi later told reporters. "If I could have the chance to travel back in time and erase it, I would."...
Utah teen accused in backpack bomb was bullied, expert says Miami Herald (Yesterday) - A psychologist says a Utah teenager accused of trying to blow up a homemade backpack bomb after looking at Islamic State propaganda online has a long history of being bullied....
Intelligence watchdog calls for more CSIS resources to tackle mental health links to terrorism Global News (2 days ago) - The Security Intelligence Review Committee says CSIS needs to expand the resources available to keep up 'mental health issues that arise in investigations.'...
American cities are so expensive that they could increase the risk of a 'demographic time bomb' Business Insider (2 days ago) - A new study from Zillow suggests that, as housing prices have increased in some US cities, birth rates have declined. Some experts say that, because the US birth rate is...
Royal Ascot 2018: Cracksman goes for glory in Prince of Wales's Stakes – live! The Guardian (2 days ago) - Updates on a day that includes the Prince of Wales's StakesEmail Tony here with your thoughts, or tweet him here 3.57pm BST A top-class opening day for John Gosden and...
UAE issues health advisory for summer travellers Khaleej Times (2 days ago) - Residents are urged to take the necessary precautions....
Ambode urges women to fight domestic violence The Punch (2 days ago) - Oluwatosin Omojuyigbe The wife of the Lagos State governor, Bolanle Ambode, has urged women to speak against domestic violence and child abuse. Ambode said this at the Lagos Women's Forum...