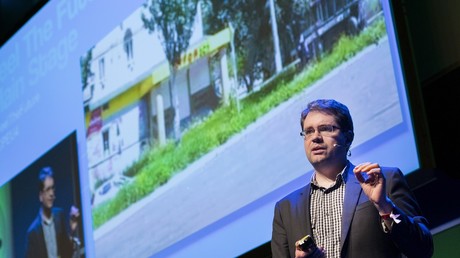 Eliot Higgins, praised by Western media as a bulwark against sinister Russian disinformation, has a persuasive, Atlantic Council-fellow retort for those who take issue with his Google Earth investigations: "Suck my balls."

Read Full Article at RT.com...
By: RT - Daily news - Wednesday, 13 June
Related Posts
Older News
Man asks blogger to watch Love Island on their first date Daily Mail Online (Yesterday) - Sophie Milner, a blogger, from London, couldn't hide her delight when she tweeted that her date asked if they could find a venue where they could catch Love Island at...
Trump 'IS committed' to NATO claims chief as May warns UK at odds with US Express UK (Yesterday) - DONALD Trump is committed to NATO, the defence alliance chief has claimed as Theresa May warned the UK disagrees on a number of issues with the United States in a...
As NATO chief pleads for alliance unity, MoD ministers warn 'Russia is preparing for war' (VIDEO) RT - Daily news (Yesterday) - Ahead of next month's NATO meeting, Jens Stoltenberg used Thursday's London speech to appeal for unity despite disagreements. Meanwhile, Tory ministers warned "Russia is preparing for war" amid a funding...
Nato chief says Trump-Putin meeting would not contradict policy The Guardian (Yesterday) - Remarks follow speculation that Russia and US leaders will meet next monthThe Nato secretary-general, Jens Stoltenberg, has brushed aside fears a meeting between Donald Trump and Vladimir Putin would undermine...
NATO needs Britain's defense capability, says Stoltenberg Reuters (Yesterday) - LONDON (Reuters) - NATO Secretary-General Jens Stoltenberg said on Thursday the military alliance needed Britain's defense capabilities after a news report said Prime Minister Theresa May had told her defense...
Transatlantic bond will be preserved, says NATO chief Stoltenberg Reuters (Yesterday) - LONDON (Reuters) - NATO Secretary-General Jens Stoltenberg said on Thursday he believed the bond between the United States and Europe would survive any differences over trade, climate or the Iran...
NATO head: No guarantee trans-Atlantic alliance will survive Miami Herald (Yesterday) - The secretary-general of NATO says bonds between Europe and North America have weakened, and he appealed for an international effort to shore up the trans-Atlantic military alliance. Jens Stoltenberg says...
On Oil Revenue Funded Projects: CSOs Demand Forensic Audit Modern Ghana (Yesterday) - Civil Society, is demanding a forensic audit of all oil revenue funded projects in the country for the last six years. The CSOs in natural resource management say the move...
In Afghanistan, NATO sees peace opportunity Pajhwok Afghan News (Yesterday) - By Javed Hamim Kakar on 21 June 2018KABUL (Pajhwok): NATO... read more...
Bob Higgins told alleged abuse victim he loved him, court hears The Guardian (2 days ago) - Former football coach is said to have begged Billy Seymour not to leave SouthamptonA former youth football coach accused of sexually abusing a string of schoolboy players told one alleged...