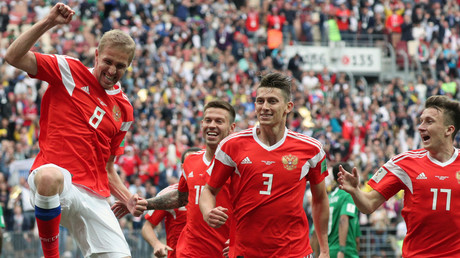 Russia midfielder Yuri Gazinsky etched his name into football history by scoring the first ever 2018 World Cup goal when he put hosts Russia 1-0 up against Saudi Arabia at Luzhniki Stadium on Thursday.

Read Full Article at RT.com...
By: RT - Daily news - Thursday, 14 June
Related Posts
In the last 2 hours
Magic acquire Justin Jackson, Maryland forward, after selection by Nuggets Washington Times (Yesterday) - The Denver Nuggets selected University of Maryland forward Justin Jackson with the 43rd overall pick of the 2018 NBA Draft Thursday night. Soon after the pick, though, the Orlando Magic...
Older News
Man predicts scores in 2 surprise Russia wins ahead of #WorldCup, bombarded with divination requests RT - Daily news (Yesterday) - A Russian musician and radio host has been bombarded with requests to tell fortunes after he correctly predicted scores in the two surprise victorious routs by the Russian squad at...
2018 World Cup: Europe's Mojo Returns As The Rest Of The World Struggles To Keep Up Forbes (Yesterday) - Despite European representatives Germany and Spain winning the 2014 and 2010 World Cups, there were signs that the overall strength of European countries was on the wane as the rest...
World Cup Results 2018: Thursday's Scores and Updated Group Standings Bleacher Report (Yesterday) - Argentina's 2018 FIFA World Cup hopes hang by a thread after they fell 3-0 to Croatia on Thursday, with Zlatko Dalic's side booking their place in the knockout stages as...
Suleiman Habuba thumbs up for Russia 2018 organsation Vanguard (Yesterday) - Suleiman Habuba is a former Director of Communications of the Confederation of African Football and now a football and business consultant. He is in Russia for the on-going FIFA World...
Croatia scores crucial goal off Argentina goalkeeper's gaffe at World Cup USA TODAY (Yesterday) - Croatia's Ante Rebic scored a crucial goal against Argentina thanks to a gift from goalkeeper Willy Caballero during their World Cup Group D match.       ...
The World Cup Is Causing a Beer Shortage in Russia The Daily Meal (Yesterday) - World Cup Fans 1, Russia 0...
World Cup 2018, Argentina vs Croatia Live Football Score: Ante Rebic Volley Gives Croatia 1-0 Lead vs Argentina - NDTVSports.com Google News India (Yesterday) - NDTVSports.comWorld Cup 2018, Argentina vs Croatia Live Football Score: Ante Rebic Volley Gives Croatia 1-0 Lead vs ArgentinaNDTVSports.comFIFA World Cup 2018, Live Football Match Score, Argentina vs Croatia: Lionel Messi...
Mbappe puts France in last 16 as feisty Peru go out NationNews Barbados (Yesterday) - YEKATERINBURG, Russia – France beat Peru 1-0 with a goal from Kylian Mbappe on Thursday to book their place in the last 16 of the World Cup and crush the...
Matuidi: More to come from France at World Cup Goal.com (Yesterday) - After a second successive one-goal win at Russia 2018, the Les Bleus midfielder insisted that his team could play better...