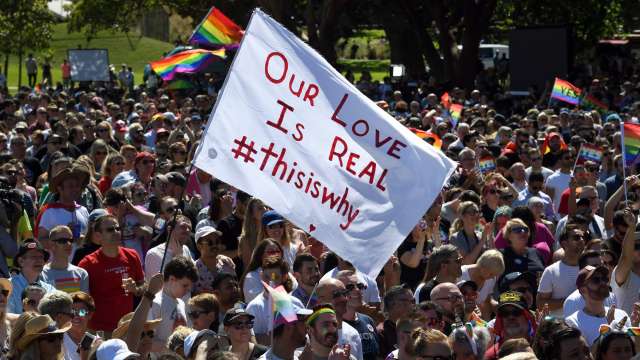 Australians voted overwhelmingly in favour of same-sex marriage in a national survey, paving the way for legislation to make the country the 26th nation to formalise the unions and sparking colourful celebrations on Wednesday.

Thousands of people gathered in a central Sydney park, some wearing wedding dresses and sequined suits, broke into a loud cheer, hugged and cried as Australia's chief statistician revealed live over a big screen that 61.6 percent of voters favoured marriage equality, with 38.4 percent against.

The voluntary poll is non-binding but Prime Minister Malcolm Turnbull immediately said...
By: DNA India - Tuesday, 14 November
Related Posts
Older News
British law must recognise Muslim marriage ceremonies | Bilal Hassam The Guardian (Today) - If the UK could do it for Quakers 250 years ago, is it too much to ask parliament to consider the needs of newer faith communities?When I had my nikah,...
Stephen Colbert celebrates Australian same-sex marriage vote on The Late Show Canberra Times (Yesterday) - Stephen Colbert opened The Late Show last night with "huge news" that Australia had voted overwhelmingly in favour of legalising same-sex marriage to much applause from his studio audience in America....
One-in-a-week cooking wrecks 22-yr-old marriage Vanguard (Yesterday) - A Nyanya Customary Court in Abuja, yesterday, dissolved a 22-year-old marriage over the wife's habit of cooking once in a week.The post One-in-a-week cooking wrecks 22-yr-old marriage appeared first on Vanguard...
Stephen Colbert just had to make fun of that Australian crocodile attack politician Mashable (Yesterday) - Trust Stephen Colbert to get his hands on the weird things happening in Australia.This time, the focus is on Australian politician Bob Katter, who you might've seen around on the...
Anti-Gay Marriage Group Knew of Lawmaker's Secret Gay Life U.S. News (Yesterday) - The nation's leading anti-gay marriage organization was among the Christian conservative groups that knew a recently resigned Republican Ohio lawmaker had extramarital sexual contact with other men....
Australian politician thinks same-sex marriage is a distraction from crocodile attacks Vox (Yesterday) - Last week, Australian citizens voted overwhelmingly to become the 25th country in the world to legalize same-sex marriage. But not everyone was happy about it. In a press conference this...
Pamela Tabbaa claims 60 Minutes program on 'forced marriage' led to death threats Canberra Times (Yesterday) - A woman who accused her parents of tricking her into a holiday in Egypt only to have her held against her will in Syria for five years was "completely out...
Reds show their colours for Rainbow Laces Liverpool FC (Yesterday) - Liverpool Football Club will again lend its support to Stonewall's Rainbow Laces campaign when Chelsea visit Anfield on Saturday....
Great British Bake Off's Paul Hollywood marriage split due 'wife's fears of infidelity' Metro (Yesterday) - Their marriage never recovered after his affair it seems....
Veteren Nollywood Actress, Iya Rainbow Celebrates 75th Birthday And 50th Years On Stage (Photos) National Mirror (2 days ago) - Veteran Nollwood actress, Idowu Philips, popularly known as Iya Rainbow, celebrated her 75th birthday and 50 years on stage in Manchester, United Kingdom on Friday. Actress Taiwo Aromokun amongst other...