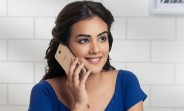 T-Mobile has confirmed the Oreo update for a couple of affordable Samsung devices on its network. The devices in question are the Galaxy J7 Prime and the Galaxy Tab E 8.0, with the carrier's website saying T-Mobile and Samsung have agreed to support Android version 8.0 for these handsets.

Sadly, there's no information on when the update would start rolling out, and we are not expecting it to happen any sooner as Samsung is currently focusing on rolling out Oreo for its top of the line phones like Galaxy S8 and...
By: GSMArena.com - 6 days ago
Related Posts
Older News
Google confirms Android Auto pixelated display issue GSMArena.com (Yesterday) - For past several months, Android Auto users have been complaining about an issue that causes the display on their car's head unit appear to be very pixelated. Following is a...
New ZTE handset with Android 8.1 Oreo on board gets Wi-Fi certified GSMArena.com (Yesterday) - ZTE is no longer making the Axon 7 and the Chinese company hasn't announced a successor for this device yet, instead choosing to focus on the foldable Axon M, which...
Xfinity Mobile now works with your unlocked iPhone Engadget (Yesterday) - Until now, Comcast's Xfinity Mobile service has meant buying one of its locked devices. But what if you already have a phone and want to switch? You now have that...
Samsung wants to best Apple with a notch-free phone (AAPL) Business Insider (Yesterday) - A new patent application shows Samsung's vision for a borderless, notchless smartphones....
Manufacturing a mobile phone requires 400 components, none is available in Nigeria – Samsung The Punch (Yesterday) - Samsung Electronics has said that one of the reasons for not establishing a manufacturing plant in Nigeria is because its market share in the country is not big enough. Mr...
Samsung says broadband makes South Africa mobile market bigger than Nigeria's Vanguard (Yesterday) - Samsung Electronics yesterday said South Africa's mobile market is still stronger than that of Nigeria despite huge difference in population.The post Samsung says broadband makes South Africa mobile market bigger...
Xfinity Mobile now lets you bring your own iPhone The Verge (Yesterday) - Comcast is starting to make it easier and cheaper to sign up for Xfinity Mobile, its new mobile phone service, by allowing people to bring their existing phones to the...
Mobile-based gate security start-up mops up ₹16 crore The Hindu (Yesterday) - myGate, a mobile-based security management solution provider for gated premises, on Thursday, said that it had raised ₹16 crore in its first round of funding, led by Prime Venture Partners....
Samsung starts producing GDDR6 RAM for next-gen graphics cards Engadget (Yesterday) - You can start getting pumped about the next generation of graphics cards, as Samsung has announced that it's building the first-ever 16-gigabit GDDR6 chips using its 10-nanometer class technology. The...
Samsung launches its Exynos 5 Series (7872) SoC for mid-range smartphones Firstpost (Yesterday) - Samsung has ensured that the processor packs support for "almost every network of 2G, 3G, and 4G" ranging from CDMA, GSM, TD-SCDMA, WCDMA, and LTE-FDD.The post Samsung launches its Exynos...