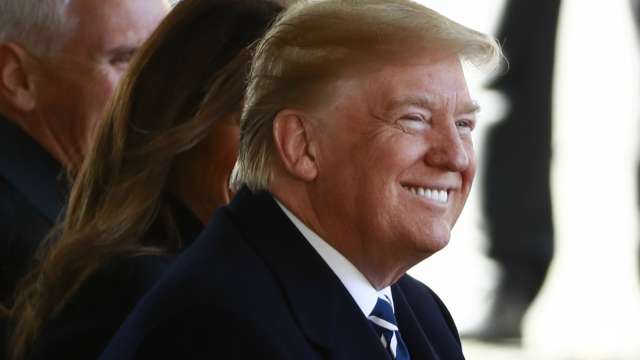 United States President Donald Trump would celebrate Diwali in his Oval Office next Tuesday, the White House has said.

"The President will be celebrating Diwali with a ceremonial lighting of the diya (lamp) in the Oval Office next Tuesday," Deputy Assistant to the president Raj Shah said in a statement on Thursday.A day earlier Trump had greeted people celebrating the festival of lights the world over and said it is a special opportunity to reflect on the bond of friendship between India and the United States.Trump said First Lady Melania joins...
By: DNA India - 6 days ago
Related Posts
Older News
White House snubs Melania Trump's demand to fire Mira Ricardel Daily Mail Online (Today) - The East and West Wings of the White House went to war on Tuesday over an aide to the president that the first lady's office wants to oust....
Trump 'bashes' UK's May on phone after she calls to congratulate midterm results RT - Daily news (Today) - Donald Trump's turbulent Europe visit started with an "acrimonious" conversation with British Prime Minister Theresa May, who called to celebrate Republican wins in the midterm election, a Washington Post report...
U.S., India can be a 'bulwark' for freedom, prosperity and peace, says Trump The Hindu (Today) - The U.S. President said he was thrilled to celebrate Diwali at the White House....
Trump celebrates Diwali, leaves out Hindus in tweet The Hindu (Today) - President Donald Trump celebrated Diwali at a White House ceremony but surprisingly omitted mentioning Hindus — the largest community in the world tha...
Twitter storm rages over Trump's Diwali tweet Khaleej Times (Today) - His first tweet was from the second part of the Diwali speech that set off the trolls....
CNN sues Donald Trump over Jim Acosta's credentials: Only four other US presidents have faced lawsuits while in office Firstpost (Yesterday) - While Donald Trump is the first US president to be sued by the media, he is not the first president to be sued to begin with. Four other presidents, namely...
Donald Trump says 'India best trade negotiator' at Diwali celebrations: Tweet wishing 'Budhists, Jains, Sikhs' faces fire Firstpost (Yesterday) - Showing the trade negotiators as highly skilled and making the talks sound difficult for the Americans, Donald Trump said, "They are very good traders, they are very good negotiators." And...
This TV beauty's beau was missing from a Diwali bash and we know the reason why BollywoodLife (Yesterday) - People were not surprised to not see this hunk at a Diwali bash...
First Lady Melania Trump has never met the security official she wants fired: official - USA TODAY Google News U.S. (Yesterday) - USA TODAYFirst Lady Melania Trump has never met the security official she wants fired: officialUSA TODAYWASHINGTON – In an extraordinary step for a first lady, Melania Trump called Tuesday for...
Trump under pressure from Melania to fire top aide Firstpost (Yesterday) - By Mark Hosenball, Steve Holland and Roberta Rampton WASHINGTON (Reuters) - President Donald Trump was under pressure from his wife, Melania, on Tuesday to fire his deputy national security adviser...